Emily Ann Weymouth of Charlton, Mass., doesn't mind getting dirty while hauling motor oil, transmission fluid and other lubricants for Dennison Lubricants.
"I do it as well as or better than the boys," she says. When the trim 29-year-old blonde climbs out of her truck, she may be covered in grease, but her million-watt smile and thin figure stun most observers into silence.
"Usually, jaws drop, and people just stare," she says. She doesn't mind and says she loves the challenge of being a hard-working woman in a man's world.
Because of her beauty, strong work ethic and tough-as-nails attitude, Weymouth was named winner of the 2014 Overdrive's Most Beautiful contest. She receives an expense-paid trip to The Great American Trucking Show in Dallas.
While some naysayers argue regional hauling doesn't compare with over-the-road, there's nothing wimpy about Weymouth or her job. Her day may include driving 100 miles with 12 to 15 stops, or 400 to 600 miles with two or three stops.
Sure, she's home at night and on weekends, but her days are long and arduous. She needs plenty of muscle to handle heavy grime-covered hoses and precise math skills to calculate the lubricant flow and the time required to reach a tank's capacity. On hot days, the lubricants can gush up to 30 gallons per minute or sluggishly in colder temperatures at 8 to 10 gallons per minute. Weymouth says she enjoys the physical demands as much as the mental ones.
"I could never be happy in an office," she says. "Ever since I was a little girl, I admired the big rigs going down the road. Now, I'm doing something I never imagined I could. What kind of trucking I do next remains to be seen. But I love what I do and wouldn't trade it for anything."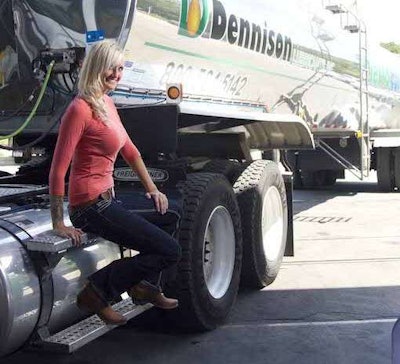 After being laid off from an automobile dealership, Weymouth used unemployment retraining benefits at a nearby truck driving school. Two years later, she hired on with Dennison Lubricants, where she still works. "It was the best thing that ever happened to me," she says.
Eric Dutra, operations manager for Dennison Lubricants, says Weymouth is a team player willing to take on challenging tasks. His letter of recommendation says she uses her expert knowledge of specialty delivery equipment.
As if her good looks were not eye-catching enough, Weymouth's tattoos attract plenty of attention, mostly compliments, she says. She got her first tattoo at 17 and now has one full sleeve, one quarter-length sleeve and her entire back covered in ink.
Most of the designs are colorful and pretty, and she says she's got one more in the works. "It's true what they say about how addicting tattoos are," she says. "I never thought I'd have this many, but I love all of them. Each one has meaning for me." What she thinks will be her final tattoo will reflect her latest experience in trucking and beauty, but she's not sure of the design.
When Weymouth's not driving a big rig, she relaxes with more physical activity. "I'm an outdoorsy person and am always looking for the next adventure," she says. She loves to ride her Harley Davidson, race dirt bikes and go shooting in the woods or at the shooting range.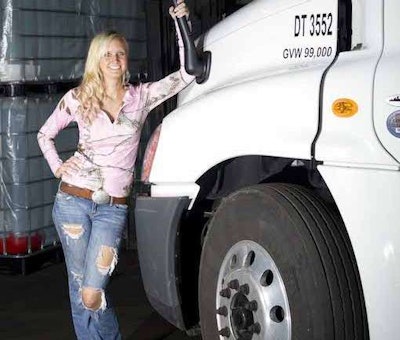 Her close-knit circle of friends, along with family and work colleagues, were huge supporters of her throughout the contest's voting process. Her bosses, dispatcher and fellow drivers all worked their social media to get out the vote. Her parents were so excited that her mother bought her a sparkling crown.
One pleasant surprise that came from competing with 10 other female truckers was the online camaraderie found among the other contestants. Maggie Stone, last year's winner of Overdrive's Most Beautiful, offered support and advice. "I mostly just encouraged her to hold her head high and enjoy the honor," Stone says. "The haters are going to hate. Nothing you can do about that.
"Weymouth is a strong, tough trucker," says Stone. "Most women in the business are in good physical shape. You have to be."
Weymouth believes more women would consider trucking if they had the confidence to step up to the challenge.
"When someone asks me if they should go into trucking, I tell them 'Do it!' " she says. "Don't think twice. The only person who can hold you back is yourself. And if you do it, be excited about it and have fun."