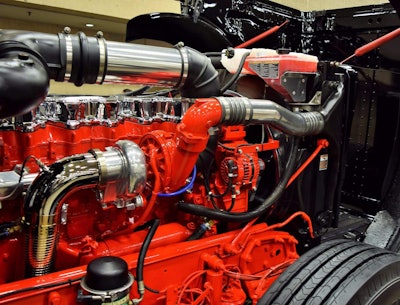 While diesel engines currently make up 98.5 percent of the Class 8 market share in North America, a new report says that dominance will lessen within the next 5 years.
ACT Research's senior partner and general manager Ken Vieth forecasts alternative fuels will start to eat into diesel's market share in the next 5 years.
"While we don't expect a complete reversal by 2021, the industry is certainly going through a transition," he says, adding the transition will be stoked by impending GHG Phase Two regulations and growth of vertical integration across the supply chain. "Diesel dominates, but the share will narrow, and non-captive engines are likely to decline, barring any unforeseen circumstances."
The N.A. On-highway CV Engine Outlook, a report from ACT Research and Rhein Associates, looks at present historical trends, current activity and forecasts of engine demand in on-highway commercial vehicles, according to Tom Rhein, president of Rhein Associates. The report analyzes trends in engine displacement, engine type (diesel, gasoline, natural gas, and other), captive versus non-captive engines, and premium versus non-premium power for Class 8 vehicles.