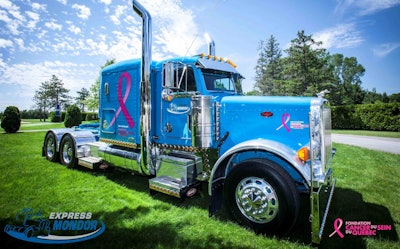 For the past three years, the Quebec, Canada-based Express Mondor has supported breast cancer research and patient outreach initiatives through the Quebec Breast Cancer Foundation. With each edition of a company-sponsored golf tournament, the event continues to grow. This year, it brought in $28,000 — over the last three years, Express Mondor has donated more than $80,000 to the Foundation.
Linda Proulx and Anna Capobianco, both of whom have faced breast cancer repeatedly over the last few years, were present at the accompanying June 16 fund-raising dinner. Both spoke eloquently about their personal experience, the company says, in addition to the impact the disease has had on them and their families and the importance of the Quebec Breast Cancer Foundation's work in continuing to support research and those confronted with the disease.
"We are very happy to have brought together a record number of golfers and fund-raising dinner guests this year," said Billy Mondor, vice president of business development at Express Mondor and a cofounder of the company with brother Eric and Dany. "Doing so made it possible for us not only to provide financial support to the Quebec Breast Cancer Foundation but also to promote awareness for a cause we hold dear. I also want to underscore the courage of Linda Proulx and Anna Capobianco and thank them for sharing their journey with us. I hope with all my heart that they will beat cancer, and they can rest assured that we will continue to support the Foundation's work."
The funds donated by Express Mondor will help finance breast cancer research, promote breast health through education and awareness initiatives and provide support to those affected by the disease.