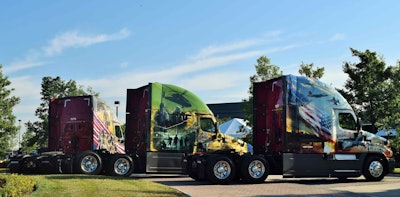 Friday, July 1, at the headquarters of U.S. Xpress in Chattanooga, Tenn., military members, U.S. Xpress drivers and employees and numerous other dignitaries gathered for the unveiling of the company's new military-veteran hiring initiative.
"We're really excited to be officially kicking off," said U.S. Xpress President and COO Eric Fuller. The hiring initiative is aimed not only at bringing ex-military people into truck-driving careers but also into roles as "diesel mechanics and office employees," Fuller added. "We think this is really important" as a service to the nation — "a no-brainer, really, and it's the right thing to do."
Tom Bullock, with the Department of Defense's Employer Support of the Guard and Reserve unit, noted the importance of the mission of his unit and its employer partners. Bullock offered himself as an example — he was drafted into the Air Force in 1966 right out of high school. He served four years, emerging an overly mature 21-year-old but without a college degree to help him in the job market. Of ESGR partner employers like U.S. Xpress, he said, "They are supplying the Tom Bullocks of the world a chance at a career."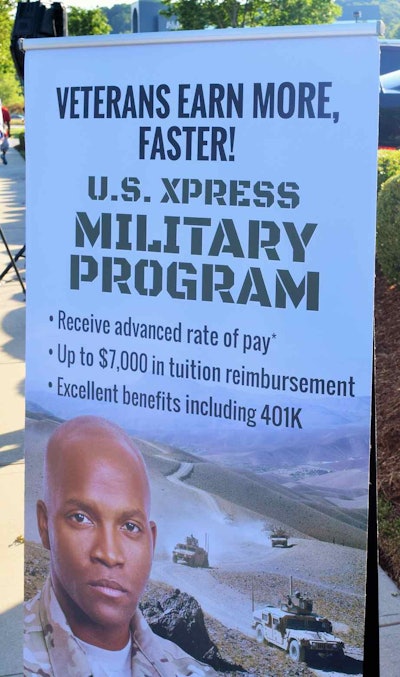 Fuller noted the company's new initiative for incoming drivers would treat recent military experience as equivalent to two years' industry experience. "Typically, if you have experience" and sign on with the company today as a driver, Fuller said, "your pay rate is based on that experience."
In this program, he added, recent "military veterans with be credited with two years of experience," worth in the neighborhood of 6-8 cents per mile.
While "veterans comprise 7 percent of the workforce" overall and unemployment is low on average, Fuller said, underscoring the importance of ESGR-partner program, "unemployment for post-9/11 vets is at 9.3 percent, significantly higher than the rest of the population. We've been at war for 15 years, and most of those vets were in some sort of combat situation. We need to do everything we can to support the people who are leaving the military to come back to civilian life."
On hand for the presentation and signing was Chattanooga Mayor Andy Berke, who reminded attendees of the approaching July 16 anniversary of the shootings last year at two military installations in the city. "We have to do more to hire people who've been in our armed forces, not just because it's the right thing to do, but because it's the smart thing to do," he said. "The character traits you get from the military are incredibly useful at places like U.S. Xpress. I just want to make sure that I come and say to everybody here that we know this will make U.S. Xpress a stronger company, but it will also make our city a better place to live."
The company presented the keys to six specially decorated 2016 Freightliner Cascadia Evolution models to specially selected drivers and teams among the company's current driver core. More than 150 applications were received as part of the program, noted Indianapolis-based Rebekah Davis, team driver with her husband, Don, and recipient of the keys to the Coast Guard-themed tractor shown below.
Four more of the tractors each were wrapped with designs representing the four other branches of the U.S. armed services — Army, Air Force, Navy and Marines — and the sixth truck carried a broadly patriotic theme.
Team drivers Tom and Weazy Sullivan took the keys to that truck, shown here. Other drivers honored included:
**Lincoln Brown in the Army Cascadia Evolution
**Tyrone McCloud in the Marines-themed unit
**Navy veteran Pete Ingram and his wife, Lori, driving team.
**John Omaster in the Air Force truck