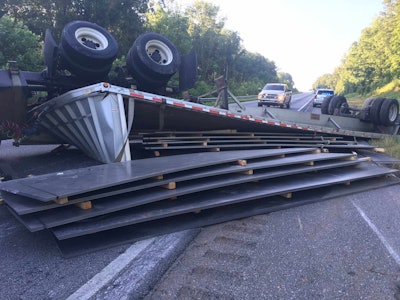 UPDATE: July 14, 4 p.m. Central: Local law enforcement said Thursday afternoon the overturned truck was hauling steel plates that are requiring special machinery to pick up and load onto another truck. Currently, I-65 around the 219 milemarker south of Birmingham, Ala., is still closed to just one lane.
Traffic Alert…Troopers have one lane open on I65 SB at the 220mm in Chilton Co. An early morning 18-wheeler crash had both lanes blocked

— Ala Law Enforcement (@ALLAWENF) July 14, 2016
UPDATE: July 14, 11:15 a.m.: The Alabama Law Enforcement Agency tweeted at 10:33 a.m. that one lane of I-65 at the 220 milemarker has been reopened.
Avoid I65 south bound from the 225 south. The interstate is completely shutdown at the 219. pic.twitter.com/14Unp5sUiW

— Chilton EMA (@ChiltonEMA) July 14, 2016
An overturned 18-wheeler is blocking all southbound lanes of I-65, just south of Birmingham, Ala., as of Thursday morning at 9 a.m. Central time.
Crews are working to clear the wreck at milemarker 219. The crash happened around 6 a.m. Thursday. As of 9 a.m., local news stations were still recommending traffic take a detour on U.S. 31 from Calera to Jemison.
We will update this post as more information comes available.
8:25am: Still recommending the detour on US 31 from Calera to Jemison. 65 SB still CLOSED @ MM 219 overturned truck. pic.twitter.com/xQbKZ6pQii

— WBRC FOX6 Traffic (@WBRCtraffic) July 14, 2016
I-65 southbound closed near Jemison. https://t.co/uLynEZsFIX pic.twitter.com/kB170truEA

— ABC 33/40 News (@abc3340) July 14, 2016
7:40am: This is the problem blocking 65 SB @ MM 220 just before Jemison exit in Chilton Co. US 31 is detour. pic.twitter.com/O8xpRRtVGy

— WBRC FOX6 Traffic (@WBRCtraffic) July 14, 2016
Tweets from https://twitter.com/channel19todd/lists/roads-511