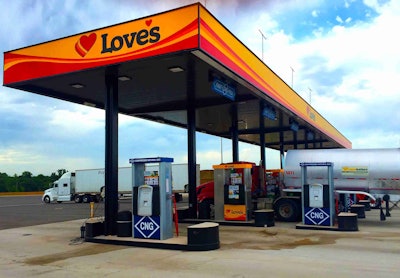 Love's Travel Stops has added a compressed natural gas option along I-35 in Guthrie, Okla., at the existing Love's location.
Love's says Trillium CNG will maintain the CNG fuel systems at the location. The addition of Love's Fast-Fill CNG to the Guthrie station, which is approximately 40 miles north of Oklahoma City, is the fourth for the company along I-35 from San Antonio, Texas, to Guthrie, and the 18th across the country.
Together, Love's and Trillium own 65 CNG locations and operate nearly 100 additional locations.