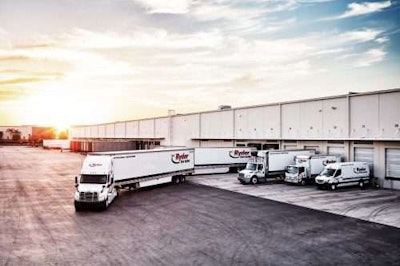 Late in May this year, Ryder System announced the launch of two new truck and trailer lease products, allowing customers interested in leasing to choose from three different "Ryder ChoiceLease" maintenance options: Full Service, Preventive, and On-Demand.
The scalable model enables small-fleet customers to decide the terms of their lease alongside the level of maintenance they prefer, from total bumper-to-bumper coverage to pay-as-you-go maintenance, accessed only when and where they need it.
Ryder Chairman and CEO Robert Sanchez noted that recent market research, including conversations with traditional full-service-leasing customers, showed "strong interest in having options. The new Ryder ChoiceLease products provide agility and customization for businesses that want more control when it comes to their fleets."
While full-service leasing has been a mainstay among small private fleets, it's growing as an option explored by owners of for-hire fleets large and small, says John Gleason, Ryder Chief Sales Officer. Owner-operators, he adds, who in the past have chiefly interacted with the company via its used-truck sales operations, now have a full-service option within the used fleet. "In the past, they obviously could go through our used-vehicle side" with the goal of purchasing, Gleason says. "But they would then be looking for more options on the maintenance side. The complexity of repairing trucks has dramatically increased," and "that trend is not going to reverse itself. The complexity model's heading off the charts. It's going to be increasing for everything."
The ability to include a maintenance contract is a used-truck lease deal is a newer option for owner-operators, he says.
The ChoiceLease program's three tiers:
Ryder ChoiceLease Full Service is the company's traditional full-service lease with all maintenance included.
Ryder ChoiceLease Preventive allows customers to enjoy the financial benefits of a Ryder lease with preventive maintenance on new and used vehicles, enabling them to choose how and where to handle their other repairs or maintenance outside of preventive checks.
Of the flexibility in the Preventive offering, says Gleason, "We provide the PMs at a fixed price for the term of the agreement. What's nice for owner-operators – they have flexibility in terms of any repair to say, 'OK, I'll do it myself, I'll do that elsewhere, or I'll do that at Ryder and here's the fixed price.' In the past, for smaller fleets, the full-service option was fixed."
Ryder ChoiceLease On-Demand provides customers with the financial benefits of leasing, combined with access to Ryder's national maintenance network on a pay-as-you-go basis. The offering is only available on new and used trailers, as well as used powered equipment.
The On Demand option is essentially akin to a straight lease, but with lessee responsibility for maintenance decisions. Payment for maintenance is not included in the payment terms of the lease.