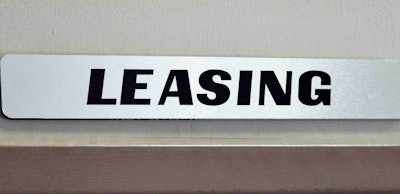 Maintenance woes associated with newer trucks' emissions systems are no secret. In used-truck-market coverage this time last year in Overdrive, survey results revealed emissions systems represented the No. 1 maintenance expense for nearly half of all owners of 2007 and later model-year trucks.
Combine rapidly developing and complicated truck technology with new-equipment cost pressures and the Millennial generation's rising presence in trucking, and the necessity of truck ownership could well fall by the wayside, says Jim Lager, Penske Truck Leasing senior vice president.
"They're realizing that what they need is use of the truck," he says. "They're realizing there's not much to gain from ownership. There may be some pride, but there's not a lot involved otherwise."
Lager's not making the case for every owner-operator to turn company driver. The full-service leases – with variations in every deal – that Penske and others offer to companies come primarily for incorporated businesses large and small looking for predictability in acquisition, maintenance and administrative expenses.
These might be for a term of five to seven years, with a monthly lump sum and a per-mile charge. Reflected in the monthly payments in a full-service lease are most everything associated with maintaining and "legalizing" the truck.
"Maintenance, washing, legalization," Lager says. "24/7 breakdown assistance. We're spec'ing based on what that customer needs."
For a small independent, liability insurance will remain his or her responsibility, but physical damage could well be part of the lease, says Rick Walden, director of sales for PacLease, whose programs often include the full gamut of services. "In some cases we might insure the vehicle," he says. "But 95 percent of the time, the carrier provides their own physical damage as well."
Full-service lease pricing varies widely depending on miles run, operating environment and other factors. As with TRAC leases, the best deals have the fewest intermediaries between the lessee and the truck.
Earlier this year, Celadon announced a Rent-to-Run program. The full-service lease program is designed for individuals to "receive all of the rewards of being an independent contractor without the risks."
The company said operators would be paid 75 percent of the load for on-time deliveries, receiving regular settlement statements like a traditional operator in a lease-purchase program. But the settlement deduction would ensure fleet responsibility for maintenance, with loaner trucks promised for any extended downtime within 48 hours, another common feature of full-service deals.
PacLease's program offers a more aggressive uptime promise: "If a truck is down for two hours or more, we provide a free replacement truck," Walden says.
Full-service leases are rare for individual owner-operators with PacLease, Walden says, unless in partnership with a fleet where a "corporate guarantee" is in place, in which the operator's fleet would assume liability in the event of default.
But for incorporated independents and small fleets, says Penske's Lager about his company's operation, possibilities exist. "The large majority of our customers are running fewer than 10 trucks," he says.
Walden says the average PacLease full-service deal is for 2.7 trucks, with the bulk of customers interested in outsourcing truck maintenance being private fleets, where trucking is not the core business.
Even so, Lager believes the full-service lease could become more attractive to the small-business trucker.
Mack Leasing System added 19 dealer locations to its network in 2015. The expansion means 210 full-service Mack Trucks dealers offer leasing/maintenance management options in addition to traditional sales, parts and service.
Mack Leasing accounted for more than 11 percent of Mack highway trucks delivered last year. About 18 percent of the company's transportation industry customers in North America opted to rent or lease their trucks in 2015, the company said.
Ryder Truck Leasing's new ChoiceLease program, which debuted in May, expanded its maintenance options for full-service customers from one to three. The customizable options enable customers to decide the terms of their lease alongside the level of maintenance they prefer, from total bumper-to-bumper coverage to pay-as-you-go maintenance, accessed only when and where they need it. New for owner-operators in the program, as detailed in prior reporting, was the ability to access used equipment in a lease deal with the company.
As independents consider leasing programs, says Penske's Lager, full-service leasing may "look more expensive, but when you peel it back and you look at what's included," more businesses are seeing the benefits.
Leasing companies typically take customers through a lease vs. own calculation to help guide the decision-making process.
Next in this series: Truck purchase v. lease: How to weigh the choices