If you missed it early in the week, access part 1 of this report via this link.
For buyers of new post-2010 emissions-spec equipment in Overdrive's survey, 23 percent reported the emissions system as their most significant maintenance issue. For buyers of new 2007-09-spec equipment, the share is higher – 29 percent. For those later model-year ranges, "emissions system components" is second only to "routine maintenance" in maintenance-issue choices in the survey.
The problems for those buying post-2007 equipment on the used market are more pronounced – almost four in 10 owner-operators reporting emissions problems for 2010 and newer equipment, three in 10 for 2007-'09. This underlines the importance of maintenance records in evaluating a used truck purchase or lease.
South Carolina-based Steve Reichard in late 2013 used Johnson Leasing of Appleton, Wis., to upgrade to a California Air Resources Board-compliant truck. Reichard had been going through a divorce that took his credit with it. Given that he runs for California-based United Van Lines agent Chipman Relocations, he was looking to upgrade from his 1999 Peterbilt 379 to meet CARB's upgrade deadline for the end of 2013. He bought a 2008 Peterbilt 389 with a Caterpillar C15. The truck's emissions system gave him no shortage of trouble.
After a nightmare spanning four months at the beginning of 2014, Reichard had $17,000 worth of repairs on a truck he didn't own. "That's the equivalent of a year's worth of payments," he says. "Luckily, I kept my old truck for those four months, and I put it back on the road, and off I went."
But not to California.
Travis Fly had a similar experience lease-purchasing through the United-affiliated Trans Advantage company. His problematic unit was a 2008 Peterbilt 389, likewise with a Caterpillar C15. Fly got his at the end of 2012, and it was "one thing after another with the emissions system," he says. "I was in at just under $20,000 in repairs on the emissions system" when he finally got out of it late last year.
Emissions-related issues aren't limited to any engine brand or even 2007-'09 emissions-spec equipment. Holly Knoll Services owner-operator Dave Palmer of Greer, S.C., purchased a new 2012 Kenworth with a dump body, powered by a Paccar engine, in Greenville, S.C. He financed it at the end of 2012 through Paccar Financial at 5.5 percent interest. He got the good rate partly on the strength of his credit, partly on the size of his down payment. "I put about $57,000 down on it," he says, financing $83,000 and some change on a six-year note with $1,371 payments.
His problems aren't with repairs' direct expense as of yet, given that a two-year/275,000-mile warranty on emissions components largely have covered the numerous repairs since putting the truck in service in January 2013. In the first couple of years of running it hauling sand, he chalked up at least two weeks' worth of downtime associated with sensor replacements, a problem with the fuel-dosing system and more routine items, such as cleaning ash from the diesel particulate filter.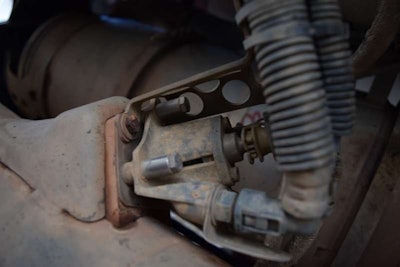 In service for just two years, owner-operator Dave Palmer's 2012 Paccar MX-powered Kenworth T800 has had the Lambda MX sensor and mounting hardware shown in the picture above, part of the truck's emissions system, replaced twice. The fuel doser, shown below, was replaced following what Palmer says sounded like explosions inside the exhaust aftertreatment system.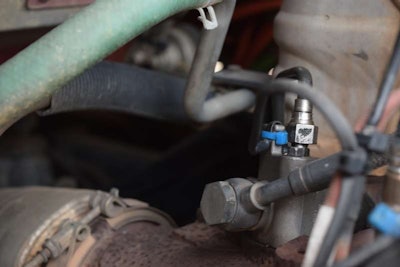 The truck is paid off, but Palmer doesn't know what he'll do with it if such issues continue. Until manufacturers "get the emissions system right," he believes "we're being taken advantage of."
"If I were a used-truck buyer," notes Fleet Advantage's Mike Meehan, "I'd be very reluctant to buy if I can't see maintenance and repair records" and be confident in their completeness. Emissions-system repairs quickly can explode in costs with all of the ECM-related electronics troubleshooting necessary to diagnose the problem.
Schneider National Vice President Rob Reich, who oversees the company's used truck sales, see their equipment as valuable because it's been well-maintained. Also, because the Green Bay, Wis.-based company purchases only new equipment, buyers know they're dealing with only one previous owner. "We can provide the complete maintenance records," Reich says.
As for the infuriating nature of emissions-system repairs for operators used to diagnosing their own equipment easily with a fair amount of certainty, "It's a challenging piece of equipment," Reich says. "They're much more difficult to work on than the trucks of just 10 years ago. In many cases, it's a simple problem, but it's not easy to diagnose."
Gliders – new trucks powered by remanned pre-emissions engines – are a growing option around those issues if you don't haul to California because they're not compliant there. Only 3 percent of respondents to Overdrive's survey reported having purchased a glider in their last acquisition, but even that share of all small-fleet truck purchases in recent years is a significant number.
If the issues Palmer, Fly and Reichard have experienced continue in other units in significant numbers, expect that 3 percent share to grow. Reich says Schneider, like many others, likewise had a fairly significant glider program with hundreds of 2010-'11 Columbia tractors that will hit the used market next year. All have a remanned Detroit Series 60 powertrain, "some with the original drivetrain, others repaired," he says. "There will be a good market for those."
The fleet worked directly with Freightliner and Clark Power, a large Detroit distributorship, to put the program together, Reich says. "It's been a good program as they hit the end-of-life mark," which is typically five years for the fleet.