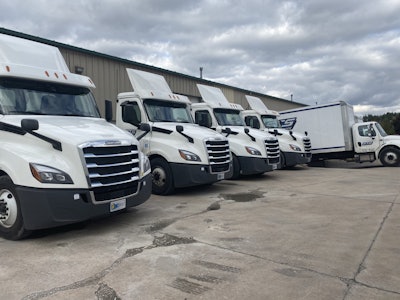 Outside of five Sprinter vans, STS Delivery Services owns none of its vehicles, but it's not because the fleet relies on owner-operators. All 18 drivers of the Avon, Ohio-based fleet are employees.
Instead, STS has found its sweet spot in equipment management by using full-service leasing, said Brian Sullivan, who co-owns the business with his wife, Karen Sullivan. That approach, in addition to an emphasis on building strong relationships with customers and drivers, has enabled the company to prosper, operating with zero debt and not having to slow down a bit during the turmoil caused by coronavirus-related lockdowns.
"I started the business by purchasing used equipment," said Brian Sullivan. The costs were great on the front end, but the back end "cost a boatload of money" as maintenance and repair costs mounted. "I got sick and tired of paying that service bill."
Besides the financial costs, there was the ongoing hassle of drivers' emergency calls in the middle of the night and being exploited for road service and repair costs when the provider discovered he was based in another state. Now both routine and emergency maintenance and repair calls are handled by Penske Truck Leasing, and his fleet being model year 2019 or newer, downtime is kept to a minimum.
Penske provides his two straight trucks and 17 Cascadia tractors (daycabs and sleepers). Different companies lease 35 dry vans to STS. The company needs the high ratio of vans for a steel drum producer that wants an empty trailer on the lot available for loading while another is delivering.
STS started in 2000 with a focus on parcel delivery service. When a customer expressed a need that required a tractor-trailer, he bought used equipment. As business grew, he began experimenting with truck leasing. "It just worked out," he said, so he sold the used equipment.
The fleet still does parcel delivery, but its primary business is truckload. Much of it is new steel drums, IBC totes (large plastic intermediate bulk containers) and cleaning supplies.
With its five vans paid for and no truck or trailer payments, the leasing model also has enabled the company to operate with zero debt and chalk up strong financials. STS is projecting 2020 revenue of $4.2 million to $4.5 million. At the high end, that would be five times the $900,000 of revenue earned in 2017, when the business really began to grow.
While the leasing model works for STS, he said, it's not for everyone. "It's not the cheapest, but I believe it's the most efficient." In his case, he has enough scale and a well-established reputation that enables strong rates to cover the costs of leasing.
Good rates also translate into excellent driver pay. Sullivan said his drivers average about $70,000 a year. "Some are in the six figures that are over-the-road guys," he said.
STS pays a portion of medical and dental insurance. The company matches 100% on 401(k) retirement contributions up to 3% of gross pay.
Those aren't major factors in recruitment or retention, Sullivan believes, though home time is. There are no weekend deliveries, and most regional runs get the driver home by evening. Five of the tractors are sleepers, usually for out-of-state hauls that require one night on the road.
"We like to have trucks back within a day to be able to service customers here that we're dedicated with," Sullivan said. When a broker is needed, mainly for backhauls, STS uses C.H. Robinson and posts regularly through them.
Like other small fleets, STS has seen bad spot market rates in recent months, hurting its backhauls. Otherwise the business has experienced no problems during the COVID-19 outbreak, thanks largely to customers who've stayed busy.
The freight and lanes STS competes in are as competitive as any, Sullivan said, so the company has strived to build strong customer and driver relationships to stand out, a major part of his duties as vice president. "I'm the only salesman here," he said, and, "I oversee all of the operations." Karen, as president, handles all accounting.
Brian Sullivan said he would advise a one-truck independent looking to add trucks to make customer-relationship building the top priority. Beyond that, he advises the basics: having a business plan, knowing costs thoroughly, being careful in buying used equipment, being diligent with preventive maintenance and adding no more than one truck at a time.
"I'm not looking to be one of the big guys," he said, though he expects to add a small number of trucks. "It's just tougher to control that way, and you lose the family atmosphere."