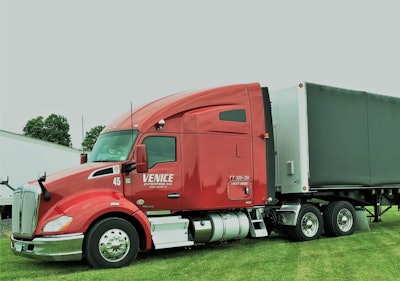 A small fleet in Venice Center, New York, has had some tough developments in recent years, said Colleen Rejman, co-owner with her husband, Fred Rejman, of Venice Enterprise.
One is driver recruitment, a tough sell in their rural upstate area, where private fleets offer attractive local driving jobs, Colleen Rejman said. The impact of COVID-19 and other changes in the fleet's market have also taken a toll.
Then there's the basic day-to-day business concerns that aren't handled by Fred, who drives and does much of the maintenance. "I have to be like dispatcher, mother, counselor, doctor," said Rejman, who also makes sales calls and buys equipment.
Perhaps the biggest challenges, though, are ones that extend beyond caring for the business of Venice Enterprise, which hauls general commodities – plastics, packaging, food-related products, pipe, steel, machinery. These are issues of trucking commerce and safety that concern her community and the state.
"I'm very passionate about trucking and I want to see good things happen," she said. "Being a woman in the trucking industry, it took me a long time to get recognized."
She began working with the fleet in 1988. When Fred took over the business after his father's death, she had trouble getting bank loans to buy equipment. Now she has good relationships with truck dealerships and can borrow easily.
Rejman has served for years on the Governmental Affairs Committee of the Trucking Association of New York. "We participate in events such as Call On Albany [the state capital] and Touch A Truck events."
She works on issues such as changing regulations that prohibit running 53-foot trailers on many state highways. She worked with state officials to address the problem of towns such as hers, where a state highway runs through it but with no speed zone protection. "They shut me down because not enough people get killed at the intersection," Rejman said. "I'm not done with them."
She's fighting for establishment of a state lemon law, having experienced inordinate trouble with certain trucks the fleet bought. She also has a personal axe to grind in fighting for regulation of procedures and fees for accident scene towing, having been initially charged almost $100,000 for service on one of the fleet's trucks, though she negotiated a lower price.
"I've been on TV a lot lately," Rejman said. "I've been interviewed on the Syracuse News about my concerns with the I-81 [proposed rerouting] project, which will have a serious impact on our business. Several years ago, I was also interviewed on the Syracuse News when people in the Finger Lakes region were trying to limit truck traffic in the Finger Lakes." In the last six months she's had one-on-one meetings with a state senator and an assemblyman.
"While Ray Martinez was head of the FMCSA, we had several conversations with him and we asked him to do a ride-along in one of our trucks for a day, which he had hoped to do," Rejman said of the recent administrator of the Federal Motor Carrier Safety Administration.
Her business, which has grossed a little over $2 million in each of the last few years, has seen big changes. Some long-time customers were bought out and later closed. Another challenge is the loss of customers to brokers who offered lower rates as the coronavirus crisis set in.
"Now I have 14 trucks, but I don't have the drivers," she said. There are seven drivers, counting Fred. Some older drivers have moved on, and most younger drivers with "a good work ethic, a clean license," prefer working for local corporate dairy farms that have private fleets and do only intrastate hauling.
Venice Enterprise tries to counter that by offering attractive benefits: health insurance, paid holidays, performance bonuses and a retirement plan with 100% company matching up to 3% of the driver's pay. Not counting benefits, last year regional driver pay averaged $59,200 and local driver pay averaged $45,860.
To enable drivers to stay in the truck more when COVID-19 began spreading around the country, the company added inverters and microwaves to its trucks, which already had refrigerators.
"All of my freight in general has dropped off," Rejman said of the virus-induced slowdown, but there's been enough for the company to avoid driver layoffs. The fleet received $177,300 in the second round of the federal Paycheck Protection Program. "I gave my drivers double holiday pay to thank them, and a few bonuses to thank them. I assured them I'd make sure their salaries stay comparable to what they were doing previously."
Rejman said her husband was honored among the annual America's Best Drivers program of the National Association of Small Trucking Companies in 2009. Their driver Jeff Kulis received the same honor in 2010.