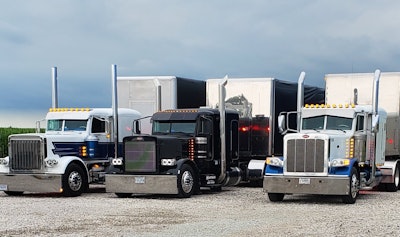 Owner-operator Warren Hartman was working as a company driver until 2011. Then, during a tumultuous time in his life, he took a big risk: He sold his house, bought a truck and trailer and went out hauling with his own authority for the first time.
Today he specializes in flatbed freight in curtainside trailers and supplementing that with other power-only ag work for direct customers in the area near his base in Forrest, Illinois. He owns two more tractors and three flatbeds, employing two full-time drivers.
What's more, he's a master of cost control, with a lean operation that maintains the lowest operating ratio (expenses to revenue) of all nine of the Small Fleet Champ award semi-finalists. That's enabled in part by a strategy to do as much routine maintenance himself as he can. He passes on advice his truck-driving father gave him, as he gave to any prospective owner-operator who asked, about truck ownership: "If you're going to go out there and drive these trucks, you're going to need to learn how to work on them first."
In accord with that, he started his trucking career as a young man in a service pit. Mechanical aptitude he considers vital to safety and profitability, and that extends to dealing with shop service.
"It can just cost you too much money," given "shops are in business for themselves, too," he said. "If they find out they're going to have your truck every week," costs can quickly get out of hand if you're taken advantage of. "You need to know enough mechanically to be able to maintain control over" your equipment's actual needs.
The threefold growth his former one-truck business has experienced in the past few years is a testament to the success of those strategies, helped as well by a key business partner, Minnesota-headquartered TraLo Companies' brokerage. "Trucking's all about growing with your customers," Hartman said. "You can buy all the trucks and trailers in the world, but that's the easy part – if you don't have good solid customers, you're just spinning your wheels."
TraLo is Hartman's go-to broker for loads outbound from the Midwest. He's built relationships with others, too, that he can count on to load his flatbeds back to the Midwest.
Having established broker and direct customer ties is something he wishes he'd more fully appreciated sooner, particularly in light of the current economic downturn. In hindsight, he sees his early limitations in sales, and "would have started earlier building relationships with solid customers," he said, "rather than some of the avenues I had taken."
Lately, he added, sales outreach to local contacts in his heavily agriculture-centric area of North Central Illinois have paid off to supplement slower freight with other customers. He's picked up a lot of power-only ag business hauling liquid bulk tankers, dumps and hoppers.
Hartman's committed to pursuing further diversification to help avoid the eggs-in-one-basket mistake he's seen others make. "I owe those ag guys a lot," he said. "I worked for these guys when I was a young driver. I have maintained some of those relationships for 25 years now."
Short-term, he also hopes to further diversify his customers in flatbed, where much of the recent growth has occurred.
Read about all nine of the Small Fleet Champ semi-finalists via this link. Stay tuned for announcement of the three finalists.