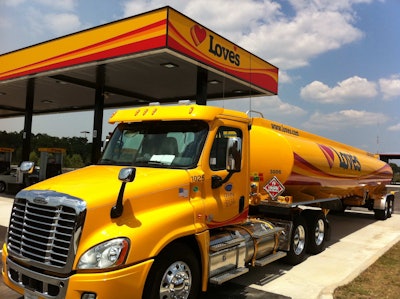 More than 130 drivers were recently recognized by Gemini Motor Transport for remaining accident-free and following the company's safety policies for five years.
Gemini, which is Love's Travel Stops' fuel-hauling fleet, gave out $3.4 million in bonuses to the 135 drivers in the inaugural class of Gemini Safe Driver Credits recipients. The drivers were paid the bonuses in a lump sum ranging from approximately $15,000 to $30,000 each, based on an average of the driver's previous 12 months salary. These bonuses are also paid in addition to other safety bonuses throughout the year.
The company gives credits to drivers on an annual basis for having no accidents, tickets or fuel-related incidents over a one-year period, and drivers have to pass all U.S. Department of Transportation and Gemini inspections. Once a driver collects five credits, he or she is eligible to receive a bonus.
The company says another 104 drivers are on track to receive their five-year bonus in 2017.