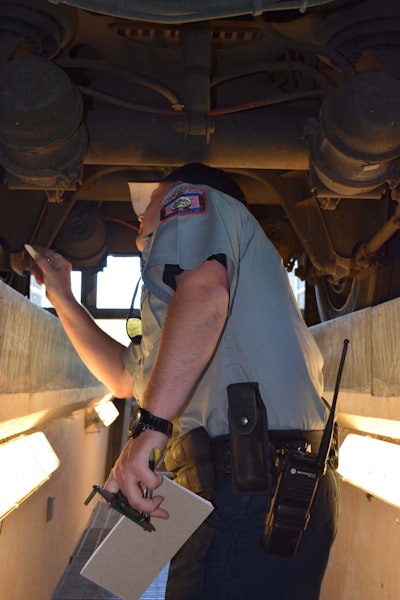 The Commercial Vehicle Safety Alliance placed 13.9 percent of inspected vehicles out-of-service during its annual unannounced brake check day on May 4.
The inspection blitz, part of CVSA's Operation Airbrake program, was conducted in 31 states and Canadian provinces. A total of 6,128 commercial vehicles had their brakes checked during the unannounced event.
CVSA says 12.4 percent of vehicles inspected were placed out-of-service for brake violations, and 13.9 percent of vehicles were placed out-of-service for violations other than brakes. According to CVSA, brake violations are generally the reason for most out-of-service violations, representing 43 percent of OOS violations during 2015's International Roadcheck.
Inspectors also checked anti-lock braking systems (ABS) during the May 4 inspection blitz. CVSA found that 9.6 percent of air-braked trucks that required ABS based on their date of manufacture had ABS violations, and 9.8 percent of hydraulic-braked trucks had ABS violations. Additionally, 19.8 percent of trailers requiring ABS had ABS violations.
CVSA's next Operation Airbrake inspection spree will take place during Brake Safety Week, which has been announced for Sept. 11-17.