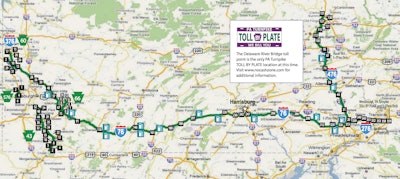 Truckers traveling across the Pennsylvania Turnpike will see increased tolls for the ninth consecutive year beginning Jan. 8, 2017.
The Pennsylvania Turnpike Commission announced this month a 6 percent toll increase for both E-ZPass and cash-paying travelers for 2017. Drivers of Class 8, five-axle trucks traveling across the state on the Turnpike from the Ohio entrance to the New Jersey exit will see an E-ZPass increase from $231.87 to $245.78 and a cash increase from $322.90 to $342.27.
PTC Chairman Sean Logan said the increase "is necessary to pay back the borrowing required to meet the PTC's funding obligations; rebuilding and widening the PA Turnpike system and providing funding to the commonwealth to support public transportation."
The PTC added that it's looking for ways to cut costs to mitigate future increases. During the last decade, PTC said it has reduced its workforce by 8 percent overall and by 20 percent in the toll-collection department due to increased E-ZPass usage. Turnpike CEO Mark Compton said these efforts won't stop the increases, however.
"While we will continue to mitigate toll increases through boosted efficiencies, we have no option but to increase tolls annually moving ahead," said Turnpike CEO Mark Compton. "Right now, traffic and revenue predictions estimate increases of up to six percent per year will be necessary until 2044."
The Turnpike's Delaware River Bridge cashless toll plaza will not increase in 2017 and will keep its 2016 toll rates.