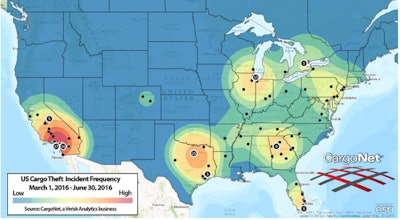 Cargo theft incidents dropped 15 percent in the second quarter of 2016 when compared to the same time period last year, but the value of the thefts increased when compared to 2015's second quarter, according to a quarterly report from cargo theft reporting firm CargoNet.
CargoNet logged 192 cargo theft incidents in 2016's second quarter worth an estimated $39 million. The total worth of cargo thefts represented a $1.3 million increase over the second quarter of 2015.
According to CargoNet, 61 percent of reported thefts had a loss value recorded, and the average incident was valued at $330,339 – up $63,243 from cargo theft incidents reported in 2015's second quarter. Eight recorded cargo thefts in 2016's second quarter were worth $1 million or more, and one in particular was worth $8 million.
Theft of electronics represented the costliest category – worth a total of $14.6 million in thefts – but electronics weren't the most commonly stolen commodity. Food and beverage items were stolen most often, but losses were down 17 percent from 2015. CargoNet says $3.81 million in food and beverages were stolen.
The most common place for thefts to occur was in warehouse or distribution center locations with 53 thefts in the quarter. Unsecured yards were second-most common with 29 thefts. Fifty-nine percent of unsecured yard thefts occurred in Texas and California.
Cargo theft incidents in California climbed 86 percent year-over-year, and $17.4 million of the $38.9 million stolen in the quarter was stolen in California.
Across the U.S. and Canada, 139 trailers and 124 tractors were reported stolen in the quarter, down from 173 trailers and 143 tractors last year.