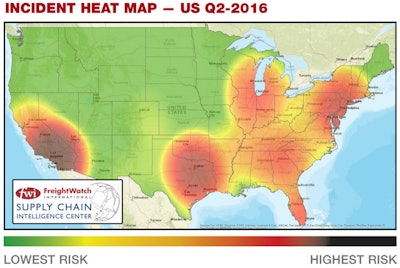 A total of 166 cargo thefts were recorded by FreightWatch International in the second quarter of 2016, representing a 11 percent drop-off in incidents when compared to the same time period last year.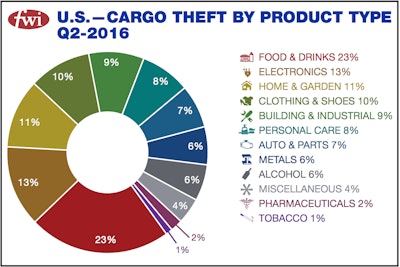 FreightWatch, a cargo theft recording firm, found an average loss value of $154,184 in the 166 thefts, which is a 16 percent decrease in value when compared to 2015's second quarter. No thefts valued at $1 million or higher were recorded during the quarter, which the firm says is unusual.
Food and drinks represented 23 percent of total thefts during the quarter with nuts and sodas, juice, tea and water being the most targeted products in the category, according to FWI. Electronics accounted for 13 percent of overall thefts, with the majority of these being televisions. Compared to the first quarter of 2016, electronics saw a 63 percent increase in its theft rate.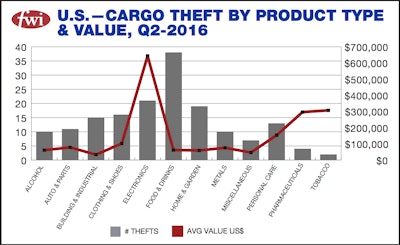 California was home to the most thefts reported in the second quarter, accounting for 40 percent of all thefts – a 122 percent increase over the second quarter last year. Texas saw the second-most thefts with 19 percent of the total, and New Jersey was third with 8 percent of the total.
FreightWatch says 82 percent of the thefts occurred in unsecured parking locations. Theft of full truckload also continues to be most prevalent, making up 78 percent of thefts.