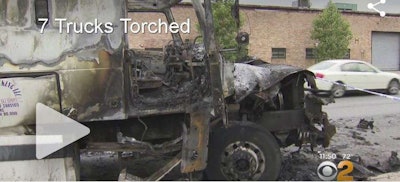 Seven trucks were set on fire in the East New York neighborhood of Brooklyn, N.Y., in the early morning hours of Sunday, July 31, according to a report from CBS2 New York.
All seven of the trucks were 18-wheelers, the report said, but all of the trailers were left undamaged. One witness told CBS2 she saw a man get out of a box truck and bust out the passenger side window of a tractor trailer before seeing an explosion.
According to a report by the New York Post, five of the seven trucks were independently owned and hired by TTS Transportation out of Newark, N.J., to haul garbage.
The Post article added that investigators were not ruling out arson and were looking into whether or not there was an "internal beef" at the companies involved.
Photos: Arson fire in East New York, Brooklyn, 3 semi truck cabs were set on fire at 2:30 am this morning. pic.twitter.com/KUHBMFgxGm

— LloydPhoto (@Lloydphoto) July 31, 2016