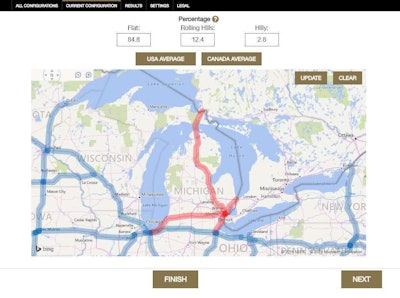 Mack Trucks has released a new fuel economy tool to its dealer network that allows drivers to spec a Mack Pinnacle highway model different ways, select a route and see potential fuel savings when compared to a baseline configuration.
Drivers can select different Pinnacle options that affect fuel efficiency, including weight, speed, engine size and rating, transmission, axle ratios, tires, aerodynamic enhancements and more, then see the difference in fuel economy. Up to four alternate specs can be compared to a baseline configuration with the program.
If a driver wants to know more about a certain configuration, the tool can also calculate fuel savings based on a driver's average miles per year and fuel prices.