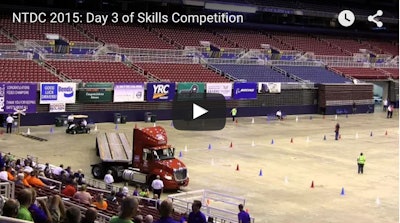 More than 430 truck drivers from across the United States will converge this week in Indianapolis for the American Trucking Associations' 79th annual National Truck Driving Championships and National Step Van Driving Championships.
Drivers will compete in one of eight different classes for the chance to be named the 2016 Bendix National Truck Driving Championships Grand Champion. The competition includes three phases of challenges: pre-trip inspection, a written exam and a driving course with obstacles and tight turns.
The event kicks off Wednesday, Aug. 10, with registration and a course walk-through for the drivers. The champion will be crowned Saturday, Aug. 13, and awards will be given for drivers in every vehicle class and for the top drivers from each state.
Last year, Ronald Emenheiser Sr., a Walmart driver based in Yorkana, Pa., won the event.