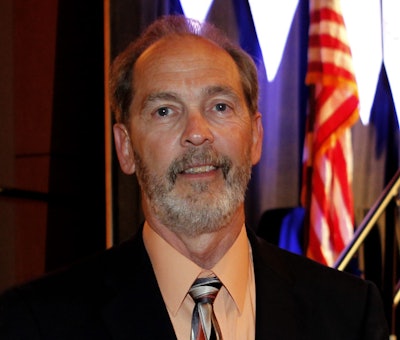 After four days of competition in Indianapolis, the American Trucking Associations crowned its 2016 Bendix Grand Champion at the 79th annual National Truck Driving Championships and National Step Van Driving Championships.
Charles "Mike" White, a driver for Walmart out of Nineveh, Ind., beat out more than 430 other truck drivers to earn the title of Grand Champion at the competition. White also took home the 3-axle class title.
"After an impressive showing throughout the week, Charles White emerged as the most skilled and knowledgeable truck driver in the country," said ATA President and CEO Chris Spear. "On behalf of the ATA and the trucking community, I want to congratulate Charles and thank the entire field of competitors for participating in these championships. Your commitment to excellence has made the nation's highways a safer place for everyone."
During the competition, drivers had to take a written exam, perform a pre-trip inspection and compete in a skills-based driving course to demonstrate their knowledge of safety, equipment and the industry, along with their driving abilities.
ATA also recognized Richard Merich as the 2016 Rookie of the Year. Merich, a FedEx Freight driver, took home the honor after a strong performance in the flatbed division. The team of drivers from South Carolina produced the top collective score and were named the top state delegation.
Champions from each of the 9 classes and the top state delegation are as follows:
3-Axle: Charles White – Nineveh, Ind., Walmart Transportation
4-Axle: Ronald Metternick – Lowell, Mich., FedEx Freight
5-Axle: Toby Kort – Aurora, Neb., FedEx Freight
Flatbed: Jay Love – Davis, S.D., FedEx Freight
Sleeper Berth: Larry Breen – Bushnell, Fla., Walmart Transportation
Straight Truck: Charles Randolph – Belle, W.V., PITT OHIO
Tank Truck: Jeffrey Langenhahn – Plover, Wis., XPO Logistics
Twins: Chris Poynor – Richland, Wash., XPO Logistics
Step Van: Frank Woods – Shawsville, Va., FedEx Express
Other Awards
Rookie of the Year: Richard Merich – Lochbuie, Colo., FedEx Freight
Team Champions: South Carolina
Vehicle Condition: William Pudney – Minneapolis, Minn., FedEx Freight
Neill Darmstadter Professional Excellence: Charles Woodland – Surprise, Ariz., FedEx Freight
Lifetime Volunteer Award: Chris Ignowski, CDS – FedEx Ground
2016 National Truck Driving Championships Grand Champion Charles "Mike" White hoists the grand champion trophy. pic.twitter.com/S4nq6z4rzF

— American Trucking (@TRUCKINGdotORG) August 14, 2016