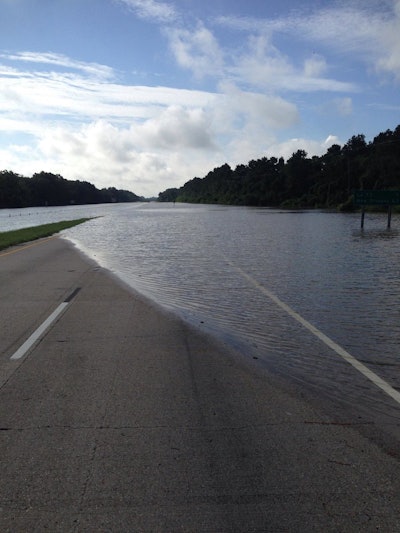 Mother nature hasn't been kind to travelers in Louisiana and California this week with historic flooding around Baton Rouge, La., and wildfires in California.
Louisiana State Police announced Wednesday that I-12 completely reopened, then announced Thursday that I-10 between Lake Charles and Lafayette has also reopened. The only closures remaining in the state are on U.S. Highway 61 near Gramercy and Sorrento and U.S. Highway 90 near Jennings and Crowley.
One portion of I-10 near Prairieville is closed in both directions to one lane as Louisiana Department of Transportation and Development crews work to build a dam to keep water off the interstate.
Up-to-date road closure information for Louisiana can be found here.
View of flooding on I-10 eastbound at Bayou Manchac, looking from the East Baton Rouge side. #laflood pic.twitter.com/EJeVgWKQHd

— Louisiana DOTD (@La_DOTD) August 15, 2016
In California, portions of I-15 near San Bernardino are closed due to a wildfire. I-15 northbound through the Cajon Pass reopened Wednesday night, but I-15 southbound remains closed. The California Highway Patrol posted the following road closures Wednesday:
Southbound I-15 closed at Ranchero Road in Hesperia to the 215 Freeway in San Bernardino
Eastbound Highway 138 at Highway 18
Lone Pine Road
Swarthout Canyon
Old Cajon Road from Cleghorn Street to Kenwood Avenue
SR-2 from the Los Angeles County line to SR-138
SR-138 from the LA County Line to SR-173.
U.S. Route 395 southbound at I-15.
Eastbound Highway 2 at Big Pines Highway
CHP also provided the following detours to get around the road closures:
Eastbound I-10 to eastbound SR-62 to northbound SR-247 to westbound SR-18
Northbound I-5 to northbound SR-14 to eastbound SR-58 to I-15
SR-18 through Apple Valley and Lucerne Valley to SR-330 through Big Bear
SCE Crews, First Responders Work to Reopen I-15 Freeway as Blue Cut Fire Continues to Burnhttps://t.co/MNGb8IhmWZ pic.twitter.com/BgFlSfSyF4

— David A. Ford (@SCE_DavidF) August 18, 2016
I-15 Fire Spreads to 25 Acres, Some Freeway Lanes to Remain Closed: UPDATED https://t.co/dZFRKWXxyN pic.twitter.com/hLwe5vX1oN

— Murrieta Patch (@MurrietaPatch) August 9, 2016