Every week we seem to report that trends are mixed, that truckload freight volume and rates are in a transition, but it's still true.
We're between seasons, as summer peach and plum harvests and back-to-school retail are giving way to fall apples and Halloween. The economy, too, seems endlessly stuck between growing and shrinking.
The overall picture may be neutral but we see regional growth in the freight marketplace. This positive trend is being obscured by weakness in California freight markets and the ongoing shift from business that depends on the oil and gas sector.
Van and reefer rates dropped a penny on average last week on the spot market, but load volume increased, so rates should start to reverse course. Fuel prices are moving up, and that has tended to drive linehaul rates higher as well because so much of the economy now depends on the oil and gas industry.
[NOTE: Previous recognition that Christmas freight has been pushed back and the Christmas rush is less pronounced because of e-commerce is underscored by data from the California ports, suggesting freight will be late arriving this year, too.]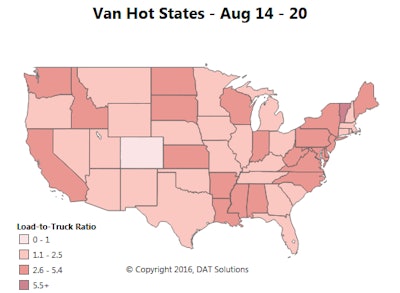 Price changes on the top 100 lanes for vans have been pretty gradual in August. Volumes were strong last week, and even though more lanes were down than up, the ones that were down fell only slightly.
TOP MARKETS FOR VANS: The Midwest has been trending up, while the Southeast has trended down in recent weeks. That led to Chicago taking over the top spot for load posts on DAT last week, which pushed Atlanta down to number 2. We got used to seeing Atlanta in that number-one spot
Rising: Flooding in Southern Louisiana has led to higher rates on lanes heading into the New Orleans market, which includes Baton Rouge. Van loads from Dallas to New Orleans and Houston to New Orleans paid 18 cents and 16 cents more per mile last week, respectively. Increases were even more dramatic on lanes into the Shreveport market, which includes Alexandria, La. Ensler Field outside Alexandria is one of the staging areas for FEMA.
Falling: Outbound volume is declining in parts of California. Los Angeles and Stockton, Calif., rates are losing traction. For example, L.A. to Denver adjusted down 9 cents last week, to $2.31 per mile on average. Some inbound rates are suffering, too. The return from Denver to Stockton fell to less than a buck a mile. The lane from Chicago to Buffalo dropped 11 cents to $2.16 per mile, and the return trip lost 5 cents, to $1.23. Rates rose on other outbound lanes from both Chicago and Buffalo, but that roundtrip went the wrong way.
Rising for reefers: Denver and Twin Falls, Idaho, got nice seasonal boosts last week. Prices held up in Southern California, while the Pacific Northwest is in peak produce season. A couple lanes out East also got big raises. Apparently the word finally got out that no one wants to get stuck in Florida this time of year. Rates jumped up 47 cents to $2.25 per mile on the lane from Elizabeth, N.J. to Lakeland, Fla. Rates were up on most lanes out of Green Bay, with strong produce harvests as well as extra dairy products for back-to-school. On the lane from Green Bay to Philadelphia, reefers got a 20-cent raise last week, to $2.82 per mile.
Falling: Weather conditions have stalled rates in Fresno and Sacramento, and low apple yields are leading to falling prices on outbound lanes from Grand Rapids. Peak season in the Pacific Northwest meant that some northbound lane rates are heading south. For example, Sacramento to Portland, Ore., fell 21 cents to $2.43 per mile.