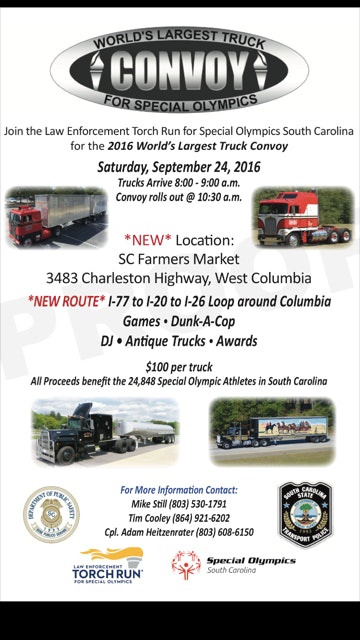 Driver Tim Cooley, one of the organizers of the South Carolina edition of World's Largest Truck Convoys for Special Olympics, noted his organization's preparations for the Saturday, Sept. 24, event were well under way, with a new rally location for the S.C. event.
Participants will gather between 8 and 9 a.m. for registration and, afterward, lunch and a variety of activities, at the South Carolina Farmer's Market off Exit 115 on I-26 in Columbia. The convoy is a 42-mile route in and around Columbia, one of many going on around the country the same day. Find out more via this resource page at the Special Olympics website.
The Convoy is a celebration of the trucking industry and its support of Special Olympics.
$100 registration donation includes lunch upon return from the convoy. Activities through the afternoon on the site of the State Farmer's Market include a live DJ, a dunk-a-cop dunking booth, a jump castle for the kids, massages and games of all kinds. An awards ceremony will recognize participating truckers and the support of the industry.
Families of all participants are welcome and will share in the celebration and lunch, organizers say.
Inspired by the impact the Special Olympics had on his life through his participation in the Law Enforcement Torch Run, combined with his job duties as a State Transport Police officer and love and respect for the trucking industry, Mike Still, a Sergeant with the SC State Transport Police, organized the convoy to help raise awareness and funds for Special Olympics South Carolina.
Cooley says they're shooting to break the threshold of 100 trucks at the event this year.
Download the S.C. registration packet for more information via this link.