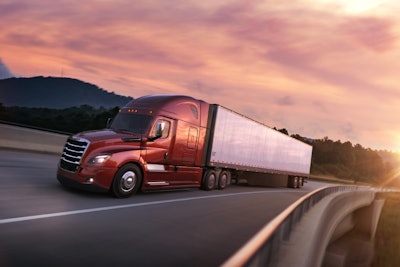 Daimler Trucks unveiled Wednesday evening a revamped 2018 Freightliner Cascadia tractor, redesigned to up the bar on fuel economy, enhance connectivity and uptime and promote driver comfort, Freightliner says.
"Every aspect of the truck has been re-imagined," said Richard Howard, senior vice president of sales and marketing for DTNA. "We are raising fuel efficiency, connectivity, safety, quality and uptime performance to even greater levels."
Freightliner, whose Class 8 market share in the U.S. and Canada tops 40 percent, introduced the truck at the Broadmoor Arena in Colorado Springs alongside some of the company's largest fleet customers, including U.S. Express, Schneider, Prime, Werner, Swift, J.B. Hunt and others.
Production on the new Cascadia begins in January and will ramp up through Spring 2017.
The new Cascadia will be powered by Daimler's integrated Detroit Powertrain, including a 2017 emissions-compliant Detroit DD15 or DD13 and the company's Detroit DT12 automated-manual transmission.
On the outside, the new Cascadia has a fresh, aerodynamic shape with dozens of sleek new updates, designed to specifically to push fuel efficiency to the next level.
While the exterior styling is notably different from its predecessors, Daimler says much of the truck's changes come on the interior, with a focus on making drivers' jobs easier.
"Drivers are our job, too," said Martin Daum, head of Daimler Trucks North America. "Being on the road for 10 days and sleeping in a truck can be brutal, and we have to make that job easier for drivers. [Truck driving] is potentially one of the toughest jobs you can have in North America. We invested a lot of money in the sleeper, the dashboard … into the human machine."
DTNA partnered with Teague, designer of Boeing plane interiors, to develop the interior of the new Cascadia on lighting, storage and ergonomic features. Additional grab handles improve driver ingress and egress, and new ceiling-mounted LED lights offer more diffuse ambient cabin illumination to reduce eye strain.
An ergonomically designed wraparound dashboard includes switches and steering wheel controls that are designed to allow drivers of all sizes to work without leaning and stretching. The instrument cluster features digital smart gauges and information displays.
A new 5-inch display on the instrument cluster panel provides plain text messaging rather than numeric fault codes and is navigable with steering wheel-mounted controls that also handle phone and radio commands.
The sleeper area has been redesigned to include more cabinets, as well as larger spaces that can accommodate standard appliances. For entertainment, a television swivel bracket can hold up to a 26-inch flat panel TV for movie- theater-like viewing.
Double-bunk and Driver Loft options are also available. The Driver's Loft features a dinette table/work table and opposing seating with seat belts. The seats can be folded flat to allow for a murphy-style bed to drop down. The Driver's Loft also comes standard with aircraft-inspired LED ceiling-mounted ambient lighting at provides more diffuse illumination for reduced eye strain and a dimmer switch so drivers can personalize their light level.
To read more about the Cascadia's new features — including its connectivity suite and virtual diagnostics, see Overdrive sister site CCJ's report at this link.