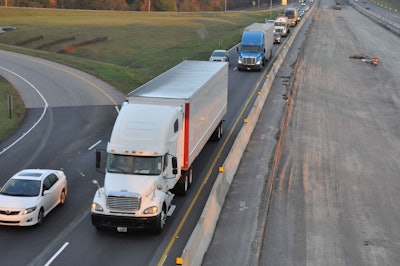 The U.S. Department of Transportation released Friday, Aug. 26, its proposal to require trucks weighing more than 26,000 pounds to be governed by speed limiting devices.
In the rule, the DOT appears to be leaning toward governing trucks to either 60, 65 or 68 miles per hour. The proposed rule itself offers little in the way of specifics, and the DOT is seeking comments from the public and the trucking industry on the rule once it's published in the Federal Register in the coming days. For more on the rule, see Overdrive's coverage here.
Since the language of the rule was released, several industry stakeholders have chimed in with their views of the proposal, which can be seen below:
Owner-Operator Independent Owners Association: OOIDA, in brief, said the proposal would make the nation's highways more dangerous for all drivers.
"Highways are safest when all vehicles travel at the same relative speed," said OOIDA Executive Vice President Todd Spencer. "This wisdom has always been true and has not ever changed."
OOIDA added that speed limiters will take control away from the drivers, since they won't be able to speed up to avoid certain scenarios on the nation's highways.
"No technology can replace the safest thing to put in a truck, which is a well-trained driver," Spencer said.
American Trucking Associations: ATA, as expected, voiced its support of the rule following its announcement. The group has been advocating for speed limiters with a maximum speed on new trucks of 68 mph since 2006.
"As an industry, we cannot be afraid of technology, but we also must make sure that technology has proven benefits," said ATA President and CEO Chris Spear. "Carriers who already voluntarily use speed limiters have found significant safety, as well as fuel efficiency and equipment lifespan benefits with little to no negative impact on productivity. We will be carefully reviewing and commenting upon today's proposal."
The Trucking Alliance: Formally called the Alliance for Driver Safety and Security, the Trucking Alliance also supports the rule for all new and existing trucks to even the playing field for all drivers.
Lane Kidd, managing director of the Alliance, said the group is hopeful a new presidential administration and Congress can move the rule along quickly.
"The Trucking Alliance supports a federal law to require speed limiters on all new and existing interstate commercial trucks," Kidd said in a statement via email. "Otherwise, some truckers will subvert the law. Why should some truckers be allowed to avoid installing speed limiters on existing trucks when it would be counterproductive to saving lives and improving highway safety? Also, there's the question of why should it take a decade to make the truck speed limiter a reality? Perhaps a new Administration and Congress can hasten this rule along, so that truck speed limiters are a requirement sooner than later."