As reported in Overdrive in 2015, the TruckerLine portal for driver career management planned from the outset to offer a recruiting platform to carrier subscribers. After a long test with the "public convenience retail supplier" CoreMark's fleet, based in San Francisco, the Outset Partners developing company reports, the TruckerLine service is now open to carriers.
Available to carriers via app.truckerline.com/carriers, the service enables access to geotargeted recruiting of more than 20,000 class A CDL truck drivers now in its network, Outset reports. TruckerLine enables recruiters to not only search for drivers based on their home location but current location on the road as well. This allows companies to recruit based on a driver's freight lane rather than just their home base.
The TruckerLine platform enables drivers to build complete career profiles with relevant industry information and background documentation, which can then be provided to interested parties with one click. Carrier recruiters can now directly search TruckerLine's network, browse résumés and receive background documentation with the driver's approval.
This speeds up the hiring process and increases hiring certainty early in the process, all but eliminating "bad apple" applicants, Outset says.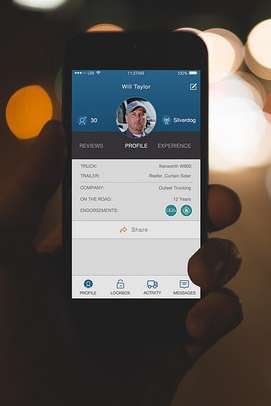 TruckerLine makes its driver users "increasingly sought-after in the industry by enabling employers to make faster and more accurate hiring decisions, which ultimately benefits everyone involved," says Joe Wegener, Vice President of Human Resources at Core-Mark, the carrier that has piloted the recruiting system.
"From day one, our goal was to make getting a better job easier for drivers," said TruckerLine CEO Chad Cashin. "Providing background documentation in a secure, easily sharable format, removes a lot of steps from the recruiting process, while enabling the best drivers' experience and skills to shine through."
Drivers can access the TruckerLine application through the Google Play and Apple app stores for smartphones and tablets.