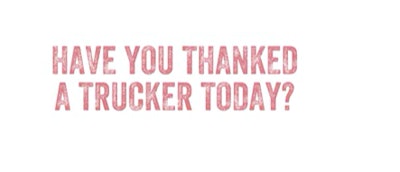 Happy Trucker Week!
This exclamation was likely met with either the same patient fake smile/stare that I used to give people when they screamed, "Happy Nurse's Week!" in my face after a 12-hour night shift. Or that I completely ignored, because some people think it's ridiculous to celebrate appreciation "weeks," instead of issuing basic human kindness and concern year-round for all jobs, professions and peoples. And then you have that small portion of the population who wouldn't be happy if Santa Claus was real and brought them an orphaned baby Bigfoot for Christmas – they're just grumpy no matter what. (Side note: If Santa ever brings me an orphaned baby Bigfoot, I'm going to burst with happiness, and then I'll be sad it's an orphan, and we'll bond and I'll have a Bigfoot kid, and have to stand up for the hairy little beast when it's bullied by the other kids for being different. #BigfootLivesMatter.)
It's the thought that counts, y'all. (Not the thought about Bigfoot, that's just a brief foray into what's going on in my mind behind the scenes, and should probably be edited while I'm being medicated, but if it's not, here's the clarification. [Point taken. We'll leave it in nonetheless. –ed.])
I spent several years on night shift in a nursing home, I learned really quick that all the celebrations and parties are planned around a 9-5, Monday-Friday-type schedule. I get that most of the cookouts and dinners at the terminals are likely missed by a lot of the folks being celebrated this week. I've experienced the leftover party trays, scavenged to nothing but jalapeno cheese chunks and wilty lettuce strewn about, with an errant baby carrot or soggy cracker here and there. I got used to the Esther Price boxes of candy with only strawberry cream-filled milk chocolates left in them, and actually learned to like the lemon creams.
I finally decided to quit being salty about day shift and office personnel getting the "good stuff," and started planning "good stuff" for night shift. Let me tell ya' something, the ladies I worked with on night shift would throw down a meal that was ten times better than anything day shift ever got — all we had to do was organize a little on our own, without the help of folks who didn't understand our nocturnal life.
It's all about adapting. Some people can do it and find happiness elsewhere, some people hate orphaned baby Bigfoots and will never be happy. Truckers are some of the most adaptable people I've ever met, so adaptable, in fact, they sometimes forget there are people who can't fathom living like we do. You can't blame the office folks for not understanding, even though anyone who works for a trucking company probably should, but let's face it, a great number of them really don't. You might take a minute to give them some feedback this week, let them know you appreciate the thought of a cookout, but you're 1,500 miles from the terminal and probably won't make it before the buns get hard. Perhaps a $25 credit on your fuel card might show a little more understanding, as well as appreciation.
You can take your appreciation week as it was intended, as a promotional tool for the ATA (Haha, I joke, kind of, I have to give credit where it's due and thank them for the huge advertising push and public awareness campaigns. It doesn't make the speed-limiter thing OK, but any money they spend promoting a positive image of the industry is fine by me) or adapt and enjoy the thought that for at least one week of the year, you get lemon cream Esther Price candies. Yay!
Happy Trucker Week, from a family who really does appreciate what you do. Be safe out there.