National Truck Driver Appreciation Week kicked off Sunday, Sept. 11 across the U.S., and with it came several deals and acknowledgement for truck drivers at truck stops, from industry organizations and more.
Overdrive published a list of deals and acknowledgement here earlier this week, and below are several more for drivers to be aware of:
Pilot Flying J: PFJ is launching its third annual Road Warrior campaign, a 15-week contest to reward truckers for the work they do, during NTDAW. Through Dec. 31, the contest will recognize drivers through a national call for online story submissions to spotlight "heroes on the road." To enter the contest, click here and submit a story of a trucker and upload their photo. Anyone, including drivers themselves, can submit stories in the contest. The grand prize winner will receive $10,000, while second and third place will receive $5,000 and $2,500, respectively.
---
iLuvMyTrucker: Overdrive sister site Truckers News opened nominations for its iLuvMyTrucker contest, which gives the opportunity to recognize truck drivers. Nominations are now open and will run until the end of September. To nominate a trucker, fill out the iLuvMyTrucker form and attach a photo of the driver, then click the "Submit Your Nomination" button.
---
Trucking Moves America Forward: TMAF launched an advertising campaign to go along with NTDAW, which includes billboards, newspapers and more. Some examples of the ads are: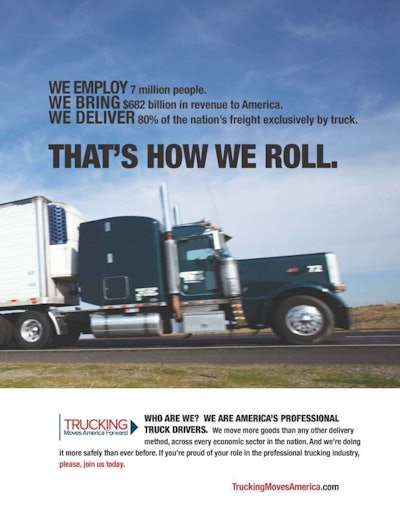 TMAF is also encouraging the trucking industry and the general public to get involved by using the hashtag #ThankATruckDriver on social media during the week.
---
Boss Truck Stops: All 43 Boss Truck Stops locations will host free barbecues for truckers during NTDAW. A full schedule of the barbecues with days and times during the week can be seen here.