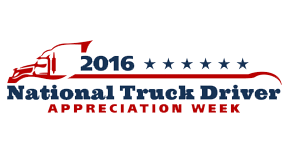 National Truck Driver Appreciation Week, a week dedicated to celebrating truck drivers in the U.S. spearheaded by the American Trucking Associations, will be held Sunday, Sept. 11 through Saturday, Sept. 17.
National Truck Driver Appreciation Week is coordinated each year to show the country's 3.5 million truck drivers that carriers, shippers and the rest of the industry appreciate the job they do, ATA says.
Here's a look at some of the promotions and other efforts taking place during the week:
Trucking Moves America Forward, the industry image and education campaign, is encouraging the trucking industry and the general public to get involved by using the hashtag #ThankATruckDriver on social media during the week. The organization is celebrating drivers with a dedicated educational campaign showing truckers in three informal or amateur scenarios to show their personal and family sides outside of trucking. TMAF will also debut billboards along major roadways for the first time.
---
Love's Travel Stops, throughout the month of September, is giving away 20 million My Love Rewards points, and one driver will win 500,000 points in a drawing held at the end of the month. Drivers can enter to win the 500,000 My Love Rewards points, a $5,000 retail value at Love's, by swiping their My Love Rewards card on fuel, merchandise or tire care purchases in store. Additionally, 2,000 My Love Rewards members will win 10,000 points instantly during September for using the card.
---
Pilot Flying J will be hosting special activities and giveaways at its locations, including bonus MyRewards points with the purchase of a Philbrr, drink coupons and individual store celebrations. Throughout September, drivers can earn double points on all diesel fuel purchases.
---
Denny's is offering discounts and prizes at participating Denny's travel center locations throughout September for truckers. Through Sept. 30, drivers at participating Denny's locations can fill out an entry form for a chance to win one of three prizes, including one grand prize of a $1,000 Denny's gift card. Three winners will receive a $500 Denny's gift card and five participants who will be given free Denny's Grand Slams for a year.
---
Southern Recipe, manufacturer of pork rinds, is holding its fifth annual Truck Driver Appreciation campaign, offering drivers a chance to win a cash prize, as well as helping the St. Christopher Truckers Development and Relief Fund earn a $2,000 donation. Drivers can enter the contest daily through Sept. 15 by visiting TruckDriverAppreciation.com. Winners will be announced, and the donation to the St. Christopher Fund will occur after Truck Driver Appreciation Week, which has been announced for Sept. 11-17.
---
Universal Lumpers, which has teams in more than 50 distribution centers across the country, will show their appreciation for drivers with verbal acknowledgement by UL team members, trivia games, raffle entry for a $100 gift card, a free travel mug, coffee and doughnuts.
---
A. Duie Pyle will highlight its drivers on the company's social media accounts every day during the week.
---
Fyda Freightliner Pittsburgh, Inc. is offering its customers complimentary sweets and coffee during their visits. They will give out a daily "Fyda Freebie" gift, with each gift being different. Customers may relax in the lounge, meet with Fyda staff and request a tour of the facility.
---
Swift is celebrating its drivers with a company-wide celebration that will include activities at all Swift terminals, giveaways and gifts. The company will host a 50th anniversary celebration at its corporate headquarters in Phoenix on Sept. 15.
---
RoadPro is honoring truck drivers during the entire month of September with daily prize giveaways. Professional drivers may enter to win prizes from industry brand names like SiriuusXM, Globetech, Garmin, Howes, FPPF, Plantronics and ToughTested. Visit the RoadPro Brands Facebook page to enter. The company will also share a trucker appreciation video during National Truck Driver Appreciation Week.