The Foley company, a provider of compliance services for the transportation industry, has partnered with California-based KeepTruckin to bring together "the key competencies of two industry leaders in transportation compliance," Foley CEO Joel Sitak says. "With our compliance expertise and their technology, we're now able to provide our customers with some of the most robust, affordable and easy-to-use programs on the market today."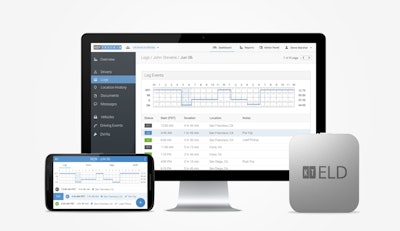 KeepTruckin is the company behind the hours logging app and electronic logging device of the same name, and the partnership will allow both companies to "provide their with a more comprehensive – and affordable – hours of service and IFTA solution than would be possible independently," Foley says in a press release, making reference to the automated IFTA data collection and reporting possible in KeepTruckin's top-tier ELD packages. KeepTruckin's monthly fees for ELD service range from $20-$40.
"Our partnership makes life easier for the owner operators and small fleets who work tirelessly to keep America moving," says KeepTruckin CEO Shaoib Makani.
This partnership comes a year before the federal ELD mandate is set to take effect in the United States. The new regulation, should it survive the Owner-Operator Independent Drivers Association's ongoing legal challenge, will require most commercial motor carriers to switch from paper logs to ELDs for the purpose of recording their hours of service data by December 2017.