Providers of computer-assisted logging devices (not connected to the engine) and Automatic On-Board Recording Devices (AOBRDs) well-known to Overdrive readers prior to release of the electronic logging device mandate final rule in December have not been represented among providers self-certifying and registering on the federal device registry, as Overdrive has reported.
Until now. The KeepTruckin ELD, the company reports, is now listed there, meaning that in terms of satisfying the terms of the ELD mandate it believes everything is in place for the device. If the mandate survives court challenges, most truckers will be required to use one of the devices on the registry for hours of service record-keeping in December of 2017.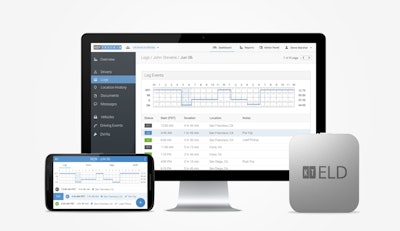 The free KeepTruckin smartphone-app logbook has been around for three years at this point with the option for streamlined back-office software for small fleets, and its engine-connected electronic log was released in October of last year. In the time since the release of the ELD mandate final rule last December, the company's been hard at work filling in boxes on a checklist produced from study of the mandate's terms, says company head Shoaib Makani. It's been "a full-on effort in both hardware and software development focused on user experience" and with an eye toward compliance with the mandate, he says. "We definitely got it right."
An in-depth post to the KeepTruckin blog outlines areas of compliance with mandate specifications that Makani hopes might serve as a blueprint for owner-operators looking to determine whether a device fits the ELD specifications outlined in the mandate. "To some degree, the burden lies with FMCSA to not put up unqualified vendors," Makani notes, but as has been reported, questions have dogged the agency vetting process for vendors included on the registry.
With the information outlined in the blog post, "Our intention was to set a high bar" for how to look at compliance with the mandate, he says. "If you want to be in compliance, this is what you want to be able to demonstrate." Among the categories detailed are:
Unidentified Driving — the mandate requires "all vehicle motion" to be tracked by the engine-connected device. If the driver's not logged in to the system, it must assign such driving to an unidentified driver.
Special Driving Categories — yard moves (on duty) and personal conveyance (off duty) driving categories must be allowed for. Small fleet users of KeepTruckin's back-office software can read more about enabling driver access to the feature at this link.
Log Edit Suggestions — protecting driver harrassment with the mandate's specs in part required providers to disallow fleet managers' free editing of a driver's logs. Instead, changes proposed must be approved.
Automatic Changes in Duty Status — the mandate specifically states that the driver's duty status must automatically change to Driving at a threshold of 5 mph. Automatic changes back to on-duty not-driving can also happen "if the vehicle remains stationary for 6 minutes. For a vehicle to be considered stationary, it must be at 0 MPH for 3 seconds." After five minutes, the KeepTruckin' system prompts the driver to approve the change in duty status, or not.
Offline Geolocation — When an internet connection for the ELD may not be available, providers must capture location information without using the internet to match GPS coordinates with location names. KeepTruckin is using a "built-in reverse geocoding system" with a list of cities with 5,000-plus populations, using this in combination with the GPS to "determine the ELD's distance and bearing from the nearest city."
Preventing Driver Interaction While in Motion — this one is self-explanatory with the risks associated with distracted driving. KeepTruckin restricts the ability to interact with the app with a special lock screen that still allows drivers to "get key information without being distracted from vehicle operation."
Data Transfer Methods & ELD Output File — KeepTruckin's ELD utilizes the "telematic" option to transmit information at roadside, which allows for data to move to officers via "their choice of either wireless web services or email."
The portion of the rule having to do with data transfer, as Makani notes, "specified a structure for output files that contain ELD data. This 'ELD output file' is the format that must be used to transmit structured ELD data to DOT officials. KeepTruckin has developed a compliant output file for transfer, but the FMCSA has yet to detail where this data should be posted."
Roadside officers, however, may ultimately come to rely primarily just on quick access to the required visual display from the devices. KeepTruckin's long-in-place "DOT Inspection Mode" allows drivers to easily share that today.
Read more about the company's compliance process via this link to their site.
Makani notes the KeepTruckin ELD remains a $20/monthly subscription product, with an ELD Plus option at $30 that includes mostly automated IFTA collection and reporting. Other features, Makani notes, are coming to that package, from vehicle diagnostics to driver performance monitoring and other features.
KeepTruckin's self-certification on FMCSA's device registry means it joins three others also detailed in Overdrive's quick-glance comparison chart for a variety of ELD vendors old and new. Find that feature at the link below: