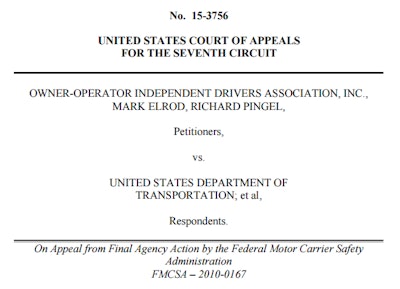 The electronic logging device mandate got its day in court Tuesday, September 13, in the Chicago-based 7th Circuit Court of Appeals. In this audio released via the court's website, you'll hear arguments from Paul D. Cullen Sr., arguing on behalf of the Owner-Operators Independent Drivers Association, and the Department of Justice's Joshua Waldman, representing the U.S. Department of Transportation's case, that will be familiar to regular readers.
Podcast: Play in new window | Download
Among the questions raised by OOIDA's legal challenge to the ELD mandate that are explored:
Has the DOT ensured that information collected by ELDs aren't used by state/federal enforcement officials for purposes not related to hours of service compliance or in civil crash litigation?
Has the FMCSA conformed to the requirement in the Congressional statute that ELDs "automatically" record hours and changes in duty status?
Are privacy intrusions a violation of the Fourth Amendment to the Constitution of the United States?
And more, including some discussion of whether "Chevron deference" to FMCSA's efforts to deal with the issue of ELDs' potential use to harass drivers is warranted. The harassment issue was the reason the previous limited mandate for electronic logs was vacated after OOIDA's prior challenge. Hear audio of the 40-minute session from the court above and at the top of the Trucking Business playlist below.