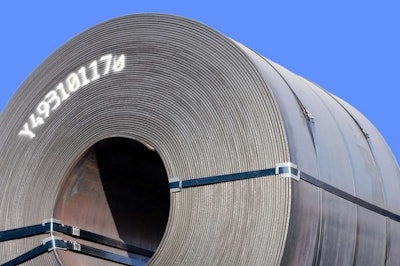 An Indiana steel manufacturing company has been granted two exemptions for its drivers who transport steel coils from one part of its plant to another for shipments and for the equipment the company uses to transport the coils.
ArcelorMittal Indiana Harbor received the exemptions from the Federal Motor Carrier Safety Administration after it requested them in March. The company's internal logistics drivers can now operate up to 16 consecutive hours in a work day and return to work with a minimum of eight hours off-duty when necessary.
FMCSA says the hours-of-service exemption is comparable to the hours regulations that apply to short-haul drivers, allowing them to use a 16-hour driving window once a week with at least 10 off-duty hours between work days. Drivers using the exemption cross two public roads – one for 80 feet and another for two-tenths of a mile – 24 times a day each, according to the exemption request.
The company said in the request its drivers would use the 16 hour on-duty waiver as an exception, not the rule, and only approximately 10 percent of its drivers' days are spent operating the trucks.
The second exemption applies to ArcelorMittal's coil-carrying trailers from certain sections of the parts and accessories requirements, including the heavy hauler trailer definition, the height of rear side marker lights, the tire loading restrictions and the coil securement requirements.
The company said in the exemption application the time it would take to secure the coils in compliance with the regulations would be longer than the transit time from one side of the plant to the other. ArcelorMittal added it's never had a problem with the public roadway crossings with their equipment or drivers.
FMCSA says all drivers covered under the exemption must have CDLs and drivers and vehicles have to comply with all other applicable federal regulations, and adds the company has to maintain any required oversize-overweight permits from local authorities.