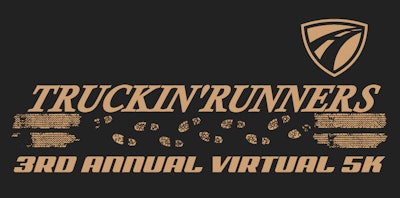 The 3rd annual "Virtual 5K" from the increasingly active near-1,000 members of the Truckin' Runners Facebook group for mutual support and encouragement in efforts to stay active on the road will take place the week of October 24-30. As in prior years, the 5K can be a run or a walk for participants, and all proceeds from the event benefit the St. Christopher Truckers Development and Relief Fund, a nonprofit that is dedicated to defraying medical and other expenses for truckers in dire straits and without adequate health insurance.
To participate, interested truckers can register by emailing organizer Jon Narron via jon.narron@gmail.com and purchasing a Truckin' Runners shirt ($25-$30) via this link.
Alternately, if a shirt is not desired, runners can make a donation of $1 or more directly to the St. Christopher fund.
When writing Narron, be sure to include your full name, whether you'll be running or walking and your age at the time of the run.
It doesn't matter where exactly you are that week — you can participate, the organizers say. Participants are instructed to simply record your 5K (3.11 miles, approximately) run or walk on a smartphone app (such as RunKeeper), GPS watch, local track, Fitbit, or other device. After you're done, submit evidence of your time to the race director "and see where you stack up against fellow participants," organizers note.
Find more information via the Virtual 5K event page at this link. A message from Truckin' Runners' Jeff Clark follows: