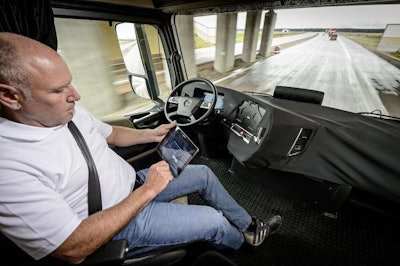 Transportation forecasters and top brass at truck OEs sent a message to the trucking industry in recent weeks: Autonomous trucking is coming, and its revolution will likely have a greater impact on the industry than deregulation of the early 1980s.
"The last major change we had was deregulation," said economist Noël Perry at the Sept. 13-15-held FTR Conference in Indianapolis. "And it had only a fraction of the power of this one. It eliminated almost all of the carriers in business at the time. A few came through, but not many. This change is even larger."
Trucking's future — and automation's role within it — highlighted several sessions at FTR's annual conference earlier this month.
Perry predicted in his address, dubbed "The Future of Transportation: A 30-Year View," that self-driving trucks will make major in-roads in the industry in the coming two decades.
He shared the stage with FTR partner and economist Larry Gross. "I think [automation] is going to happen faster than most think," Gross said, due to cost savings for fleets and the safety aspects of autonomous vehicles.
Likewise, Navistar International CEO Troy Clarke said he foresees the industry relying on automation heavily by 2035. By that date, the U.S. will have 35 mega-cities connected by major freeways, he said, on which tractor-trailers will operate in an autopilot mode.
In such a scenario, truck drivers would manually drive their vehicles to the freeways, then engage an on-highway autonomous system that frees the driver from operating the vehicle on the highway, Clarke says. The truck driver would then reengage to operate the vehicle when the truck nears its destination. "We would have fewer, but well-trained drivers that are paid a lot more," he said. "You'd have a system that's very analogous to an airline pilot."
Clarke said the financial incentive is there for the industry to tap into under-used assets.
"Trucks are used a little more than half of the available hours they can be used," Clarke said of carriers' asset utilization. If the industry could achieve 100 percent asset utilization, carriers would need half the number of trucks and half the number of drivers they do now. Highways would also need less maintenance, he said.
"If we can solve the technical puzzle and utilize [equipment] at a higher rate, it solves emissions, it solves the driver shortage," Clarke said.
FTR's Perry estimates that a fully automated tractor-trailer would save fleets' more than $1 a mile in operating costs. About half of that comes from driver wages, with the rest spread out among lower insurance costs, better fuel economy and higher productivity of automated trucks.
But the automated revolution won't be without its thorns, Perry said. "It could create massive, temporary unemployment, like the depression," he said. He likened the change to when tractors replaced laborers on farms and when bulldozers replaced shovelers on highways. "History can be a good teacher for us," he said.
"My message is this will certainly not be a smooth process. There are going to be the proverbial bumps along the way — a lot of casualties and dead-ends," he said. "But the end result will have legs."
IAA concepts offer peek at trucking's automated future
Last week, the bi-annual IAA trucking trade show was held in Hannover, Germany, where major trucking equipment and technology players introduced their latest products. Those announcements revolved much around truck automation and truck electrification.
In addition to Daimler's unveiling of an electric-powered truck, several other truck OEs announced developments related to electric powertrains (read more at Overdrive sister site CCJ's coverage at this link). Several components makers also released products that take steps toward vehicle autonomation, the building blocks toward fully automated vehicles. Read more about the automation and electrification announcements made at IAA at this link.