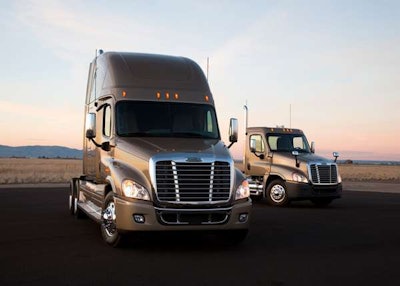 Daimler Trucks has issued two separate recalls that affect approximately 1,160 Freightliner and Western Star trucks.
One recall affects 1,007 model year 2013-2017 Freightliner Cascadia trucks manufactured between Sept. 24, 2012, and May 27, 2015, equipped with compressed natural gas engines.
The recall pertains to the location of the power distribution module on the trucks. Daimler says the module is mounted near the CNG fuel tank and may be sprayed with water and other contaminants from the road, causing it to short out. If it was to short out, Daimler says there would be an increased risk of fire, especially since it is located near the CNG fuel tanks.
The company says it will begin notifying affected truck owners Nov. 7, and will relocate the module free of charge.
The other recall affects approximately 156 trucks equipped with Conmet aluminum non-high capacity front axle hubs manufactured between March 15, 2013, and July 29, 2016. Daimler says the following trucks specify a front axle weight limit that could be higher than the hub capacity, causing the hub to fail and the wheel separating from the axle:
2014-2017 Freightliner 108SD
2014-2017 Freightliner 114SD
2014-2017 Freightliner Business Class M2
2014-2017 Freightliner Cascadia
2014-2017 Freightliner Coronado
2014-2017 Western Star 4700
2014-2017 Western star 4800
2014-2017 Western Star 5700
Daimler says it will begin notifying owners of this recall Oct. 27 and will replace the front axle hubs free of charge.