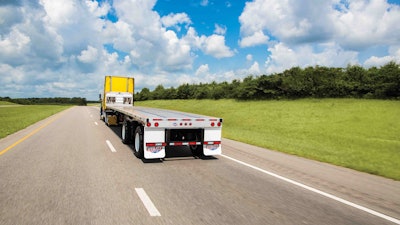 Utility Trailer announced Tuesday the release of a new flatbed that cuts the weight of the previous trailer by 536 pounds while adding a standard coil haul package.
The new 4000AE trailer replaces the steel crossmembers of the 4000A trailer with 3- and 4-inch aluminum crossmembers, and also uses three tube-shaped outriggers connected to the crossmembers on each side of the trailer to help with even load distribution to the steel main beams, the company says.
The 4000AE comes standard with a 47,000-pound coil haul package and is 627 pounds lighter than the 4000A model fitted with an optional coil haul package, Utility says.