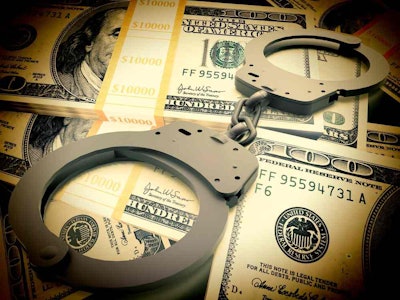 The Department of Transportation's Office of Inspector General recently announced court activity in five trucking-related crime investigations. Here's a summary of what happened with each:
Utah man convicted, sentenced for bribery related to CDL fraud
Robert Laudemann of West Jordan, Utah, pleaded guilty Aug. 24 to attempted bribery of a public servant after the Utah Driver License Division notified the OIG that he had offered a bribe to a third-party tester for a CDL test in February 2015.
The OIG says Laudemann offered to pay $1,000 to the tester, who believed it was a bribe for a passing score on the CDL road test.
Laudemann was sentenced to one year imprisonment, which was suspended, one year of probation and ordered to pay a $1,000 fine.
Louisiana CDL examiner sentenced in fraud scheme
Christopher Pender, a third-part CDL examiner in Louisiana, was sentenced to a year of probation and ordered to pay a $2,400 fine for making and using a fake document related to a CDL testing scheme.
OIG's investigation found that Pender, on or around Nov. 2, 2014, gave a CDL test applicant a skills test certificate without the test being taken in exchange for a cash payment. OIG says the false certificate was provided to the Louisiana Department of Public Safety and was used to fraudulently obtain a CDL.
Virginia company sentenced for illegal hazmat transport
Chemsolv, a company that operates a chemical blending and distribution facility in Roanoke, Va., was sentenced to five years' probation and ordered to pay a $1 million criminal fine, $250,000 in civil penalties and $250,000 toward community service projects for the illegal transportation and storage of hazardous waste.
In 2012, Chemsolv contacted an environmental cleanup company after employees spilled several hundred gallons of ferric chloride. Approximately 4,500 pounds of ferric chloride mixture was vacuumed and put into five 275-gallon containers, but the mixture wasn't properly tested to determine if it was hazardous, OIG said.
The material was then classified as non-hazardous by Chemsolv employees and transported to a disposal facility that wasn't permitted to handle hazardous waste, and the containers were not placarded as containing hazardous waste.
Trucking co. owner in Penn. pleads guilty to charges relating to reincarnating after shutdown
Volodymyr Kurylo, owner of VN Trucking, pleaded guilty Sept. 19 to charges related to reincarnating after being shut down by the Federal Motor Carrier Safety Administration.
The OIG says he admitted that he knowingly and intentionally sent a registration document to FMCSA in the name of a reincarnated carrier with intent to distribute the proceeds of an unlawful activity.
OIG says FMCSA issued an Unsatisfactory rating to VN Trucking in December 2014 and ultimately ordered the company to cease all transportation. Kurylo and others reincarnated the company as AV Trinity and in March 2015. FMCSA issued an Operations Out-of-Service Order and Record Consolidation Order to VN Trucking and AV Trinity, OIG says. FMCSA then ordered VN Trucking and AV Trinity to cease all motor carrier operations.
OIG's investigation found that Kurylo continued to dispatch VN trucks and drivers and also used a VN Trucking bank account to receive proceeds of its operations and pay its expenses, using other carriers to conceal the company's operations.
Ohio trucking co. owner pleads guilty, sentenced for unauthorized use of property
Sandy Singh, owner of Knightrider Transportation, LLC, pleaded guilty Aug. 30 to unauthorized use of property and received a 30-day suspended sentence from the court.
In October 2015, Singh and her son, Raj Singh Bhangu, were indicted for telecommunications fraud related to their operation of the company. In December 2013, FMCSA placed Knightrider out-of-service for failure to comply with safety fitness requirements, according to OIG, prohibiting the company from operating.
OIG says in January 2015, Bhangu created a document on false FMCSA letterhead that misrepresented the company's authority to operate.