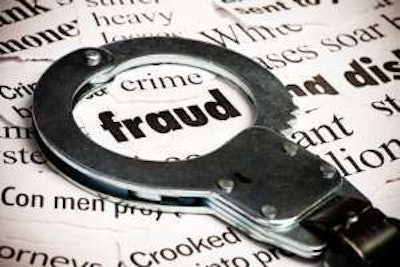 The Department of Transportation's Office of Inspector General recently announced court activity in five trucking-related crime investigations. Here's a summary of what happened with each:
Florida man sentenced in CDL testing scheme
Adrian Salari was sentenced Oct. 3 to six months in prison, which will be followed by a year of supervised release for his role in a CDL testing scheme.
Salari and fellow employees of Larex Incorporated were charged with conspiracy to unlawfully produce Florida driver's licenses and CDLs in August 2015, and he pleaded guilty in July 2016.
Larex marketed itself toward Russian-speaking students and charged them $1,800 to $5,000 for services to obtain a Florida CDL. The company helped them cheat on the written test, provided false certifications and more to satisfy Florida's CDL requirements, according to the OIG. The DOT says at least 400 students were able to get fraudulent CDLs through the company.
Penn. woman arrested for committing fraud against FMCSA
Joann Wingate of Carlyle, Penn., was arrested Oct. 13 for her role in a scheme that violated FMCSA's regulated alcohol- and drug-testing program and regulations for DOT physicals.
Wingate was charged with wire fraud, false statement sand aggravated identity theft through a 65-count indictment. The indictment alleged Wingate performed FMCSA-regulated medical exams for CDL holders, even though her chiropractic license had been revoked in 2013.
OIG says she also allegedly falsified other medical examiner's certificates by using the name, license number and forged signature of an unknowing doctor. Additionally, the indictment alleged that she contracted with a trucking company to perform its DOT alcohol and drug tests for payment.
Missouri chiropractor sentenced for making false statements concerning CDLs
Ranee Roberts, a chiropractor, was sentenced Oct. 18 to six months home confinement, four years of probation and 100 hours community service, and was ordered to pay $23,373.87 in restitution and a $4,000 fine, after she pleaded guilty to healthcare fraud and falsification of records relating to CDLs.
Between May 2014 and May 2015, OIG says Roberts falsified medical examiner's certificates by directing her staff to perform parts of the medical exam, even though they weren't certified to do so.
OIG adds Roberts sometimes changed test results and even submitted certificates to FMCSA before the exams were conducted.
Iowa man pleads guilty to motor carrier fraud scheme
A man who previously owned several motor carrier and transportation logistics companies pleaded guilty Oct. 24 to wire fraud and false statements after he was found to have contracted with shippers to haul freight for a certain price, then billing the shippers multiple times for the same load, according to OIG.
FMCSA found in its investigation that Bret Tratchel provided false information to the agency when applying for Motor Carrier and Broker Authority. FMCSA requires carriers to disclose prior company affiliations, and Tratchel operated CK Logistics and intentionally didn't disclose to FMCSA that he had business interests and was associated with BT Ent. and JBT Logistics, DOT says.
OIG says Tratchel confused his customers , circumvented registration requirements and operated without compliance and FMCSA authority with his scheme. He also allegedly submitted false invoices, bills of lading or similar documents to his customers to cause them to pay him fraudulently. Quaker Transportation, one of his victims, paid him $35,801 as a result of false invoices.
Former N.Y. doctor pleads guilty to CDL medical exam fraud
Gerald Surya, a former doctor, pleaded guilty Oct. 21 to fraud for approving the use of unqualified medical assistants and interns to perform DOT medical exams for CDL applicants.
Surya practiced at JFK Medport, located at John F. Kennedy Airport. The assistants and interns allegedly forged Surya's name on forms and certificates when he wasn't there to sign them himself, OIG says.
In a separate incident, Surya pleaded guilty to the criminal sale of a controlled substance, primarily oxycodone, and has since forfeited his medical license, according to OIG.