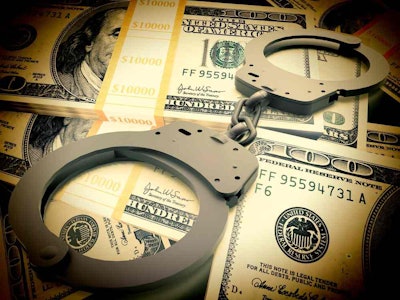 Activity in two trucking-related criminal cases was recently announced by the U.S. Department of Transportation and the New Jersey State Police:
A New Jersey trucking company owner was recently arrested for having more than $1 million in unpaid tolls and administrative fees accrued over a 13-month period.
Lester Morales, 34 of Little Ferry, N.J., and owner of EAB Transport/Do It Right Trucking, was arrested after an investigation into a delinquent E-Z Pass account. Morales' company had approximately 100 trucks going through tolls more than 100 times each day, according to NJSP.
Police caught Morales at Newark Airport before he boarded a flight to Aruba, and he was charged with theft of services.
A Pennsylvania woman accused of continuing to perform CDL medical exams after being suspended by the state has been issued a suspension by the Federal Motor Carrier Safety Administration.
The Department of Transportation's Office of Inspector General recently provided an update on the case of Joann Wingate, who was arrested and charged in October with wire fraud, false statements and aggravated identity theft. On Jan. 3, Wingate was issued a suspension notice and a proposed debarment from FMCSA following an investigation that led to a 65-count indictment.
Wingate, who was a chiropractor in Pennsylvania, allegedly continued to perform and receive payment for FMCSA-regulated medical exams on CDL holders after the state suspended her "questionable chiropractic license" in 2013, the OIG says. Additionally, she allegedly falsified other medical examiner's certificates by using the name, license number and signature of another licensed doctor. OIG's investigation found that Wingate was never a licensed or practicing doctor.