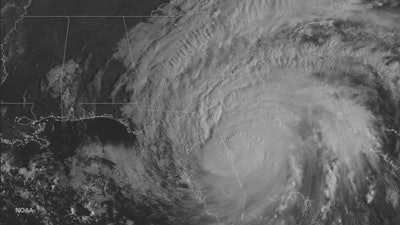 Update – Monday, Oct. 10, 9 a.m. Central: Virginia and Kentucky have joined Florida, South Carolina, Georgia and North Carolina in temporarily suspending certain trucking regulations in the aftermath of Hurricane Matthew's weekend landfall.
Two states' regulations suspensions are set to expire early this week, while some other states not affected by Hurricane Matthew have suspended some of their trucking regulations to help provide aid for the impacted states.
Florida's emergency declaration, which suspends registration, hours-of-service and size and weight regulations for trucks providing emergency services for the state, expires today, Oct. 10. Georgia's state of emergency expires Tuesday, Oct. 11. North Carolina's declaration isn't set to expire until Nov. 2, and South Carolina Gov. Nikki Haley did not give a date for the declaration to expire.
Virginia's and Kentucky's governors have both issued emergency declarations suspending trucking regulations for commercial trucks hauling food, equipment, supplies and more to the states affected by Hurricane Matthew.
UPDATE: Friday, Oct. 7, 2 p.m. Central: I-26 in South Carolina is open in both directions between Columbia and Charleston.
All lanes on I-26 between Charleston and Columbia are now open and traffic is flowing normally in true direction.

— SCDPS (@SCDPS_PIO) October 7, 2016
UPDATE: Friday, Oct. 7, 9 a.m. Central: South Carolina DOT has announced it will begin removing the lane reversal on I-26 eastbound from Columbia to Charleston beginning at 10 a.m. Friday. The process will take up to three hours, according to SCDOT.
The SC Highway Patrol has begun clearing the reversed, eastbound lanes on I-26. NO traffic allowed until the clearing is complete.

— SCDOT (@SCDOTPress) October 7, 2016
UPDATE: Thursday, Oct. 6, 8:45 a.m. Central: South Carolina has revised its State of Emergency to include the suspension of hours of service and size and weight regulations in preparation for Hurricane Matthew. The size and weight waivers applies on trucks up to 90,000 pounds – anything above that needs a permit from the state.
Georgia Gov. Nathan Deal also issued a State of Emergency for a number of counties in the southeastern part of the state, but the declaration didn't include a mention of any trucking regulations.
The storm is currently on track to begin impacting Florida's east coast early Friday morning, then traveling up the East Coast before potentially looping back around beginning Sunday.
Original story follows:
As Hurricane Matthew approaches the East Coast, Florida and North Carolina have issued emergency declarations suspending several federal regulations on truckers operating in the states to aid with relief efforts. South Carolina has not yet suspended any regulations, but will be reversing lanes on I-26 between Charleston and Columbia.
Florida Gov. Rick Scott issued a State of Emergency that suspends registration, hours-of-service and size and weight regulations for commercial vehicles entering the state to provide emergency services or supplies, to transport emergency equipment, supplies or personnel, or to transport FEMA mobile homes.
The order states the DOT will issue size and weight permits for divisible loads on vehicles transporting emergency equipment, services, supplies and agricultural commodities and citrus as recommended by the Commissioner of Agriculture.
North Carolina Gov. Pat McCrory also issued a State of Emergency suspending hours-of-service regulations, certain size and weight restrictions and certain registration requirements for vehicles transporting equipment and supplies for the restoration of utility services, carrying essentials and for equipment for any debris removal. Vehicle weight must still remain under the maximum GVWR from a vehicle's manufacturer or 90,000 pounds gross weight, whichever is less, according to the emergency declaration. Tandem axle weight must also remain under 42,000 pounds and single axle weight under 22,000 pounds.
South Carolina Gov. Nikki Haley issued a State of Emergency, but has yet to suspend any trucking regulations. She did, however, order a major lane reversal for hurricane evacuation out of Charleston. I-26 eastbound into of Charleston will be reversed beginning at 3 p.m. Wednesday with traffic going away from the coast until the I-26 and I-77 interchange in Columbia.
Hurricane Matthew made landfall in Haiti as a Category 4 hurricane Tuesday. It is expected to reach Florida's east coast Friday, but the extent of its impact is still unknown.