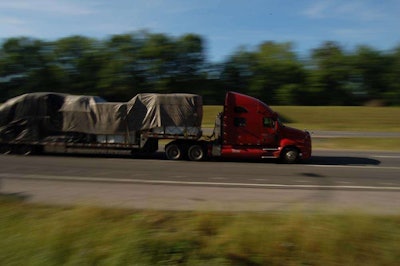 More than 85 percent of fleet respondents in a recent survey their fleet's trucks are equipped with speed limiters, according to a survey performed this year by the American Transportation Research Institute. The survey also showed adoption of electronic logging devices in 2015 was flat compared to 2014.
ATRI's reported figure comes less than a month into the public comment period for a proposed rule from the U.S. DOT to require nearly all trucks in the U.S. to be equipped with speed limiting devices.
Since 2011, ATRI has asked survey respondents in its annual Operational Costs of Trucking survey to report whether they use speed limiters (aka speed governors).
This year, 85.1 percent said they utilized limiters in 2015, and 85 percent of such fleets said they use limiters on 100 percent of their fleet's trucks. Another 7 percent, ATRI says, use speed limiters on 70 to 99 percent of their trucks.
The most common speed limit was 65 mph, ATRI notes.
Though ATRI considers use of 85.1 percent of survey respondents — who accounted for more than 107,000 power units — "consistently high," the figure is the lowest since ATRI began asking the question of survey respondents for 2011. In 2014, speed limiter usage was nearly 92 percent. In 2011, speed limiter use was reported at 93.2 percent, and in 2012 and 2013, speed limiter usage was 86 percent and 86.8 percent, respectively.
Meanwhile, use of electronic logging devices by surveyed fleets remained flat, at 63 percent. The DOT published in December 2015 a final rule to mandate the use of electronic logging devices to keep records of duty status, which likely had little effect on the survey results, given its late-in-the-year publication.. The rule takes effect December 2017. "It is assumed that this figure (63 percent) will increase toward 100 percent as the industry responds" to the mandate's requirements, ATRI writes.