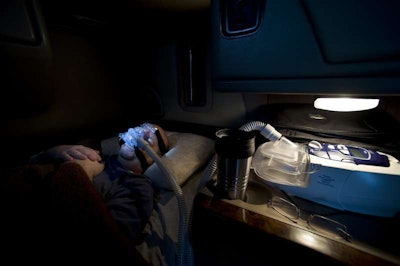 Two separate FMCSA advisory boards will meet separately and jointly Oct. 24 to focus on recommendations for a rule to require sleep apnea screening and treatment for at-risk drivers.
The Federal Motor Carrier Safety Administration's Medical Review Board (MRB) and Motor Carrier Safety Advisory Committee (MCSAC) will meet Monday, Oct. 24, and each committee will update the other in its recent findings as it pertains to obstructive sleep apnea and a rulemaking related to screening and treatment. All of the meetings will be open to the public.
The MRB will report on its revised recommendations for obstructive sleep apnea based on the comments the agency received in the Advance Notice of Proposed Rulemaking issued earlier this year.
MRB made preliminary recommendations in August, which encouraged FMCSA to require drivers be screened for sleep apnea if they have a body mass index greater than 40 or have a body mass index greater than 33 and meet other criteria. Click here to read Overdrive's coverage of those recommendations.
After MRB makes its revised recommendations, MCSAC will then discuss the implementation of MRB's suggestions and how they would impact truckers.
The meetings are open to the public and will be held from 9 a.m. to 5:15 p.m. Eastern at the National Association of Homebuilders (1201 Fifteenth Street, NW, Washington, DC).
Oral comments will be heard throughout the meeting, and the public can also submit written comments by Wednesday, Oct. 19 by searching Docket No. FMCSA–2008-0362 at www.regulations.gov once the notice is published in the Federal Register Oct. 14.