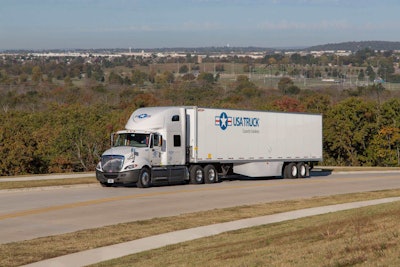 Owner-operators at USA Truck (No. 57 in the CCJ Top 250) will see a boost in pay beginning this month.
USA Truck has increased pay for its independent contractors as of Oct. 1 to between $1.02 and $1.35 per mile, depending on the length of haul, through the company's new Independent Contractor Compensation Program. The previous rate was 98 cents per loaded mile.
Under the new system, independent contractors will be paid $1.35 per loaded mile for hauls up to 150 miles, $1.15 for hauls between 151 and 300 miles, $1.07 for hauls between 301 and 400 miles, and $1.02 for hauls longer than 400 miles.
"This represents a significant commitment by USA Truck to the success of our independent contractors," says President of Trucking Martin Tewari.
The company adds independent contractors will also receive fuel discounts at in-network fuel stops, better labor rates and discounted parts at USA Truck maintenance facilities.