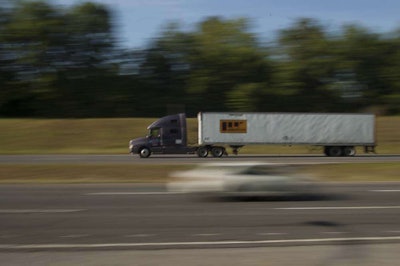 Nearly 3,000 comments have been received by the Department of Transportation in just five weeks since it published its proposal to mandate the use of speed limiting devices on trucks weighing more than 26,000 pounds. Truckers, according to the publicly filed comments, remain opposed to the rule.
The proposal is written as more of a fact-finding request than a fully formed rule proposal. It doesn't offer specifics on a speed trucks would be limited to. The DOT did appear to be leaning toward either a 60, 65 or 68 mph cap, however.
Many of the comments, if not most, received to the docket so far have been in opposition of the rule, and although it hasn't filed a formal comment yet, the American Trucking Associations, has said it won't support the rule as it's currently written, despite its past strong support for a rule mandating limiters.
The comment period is open through Nov. 7. To file a comment of your own, visit OverdriveOnline.com/speedrule, which goes directly to the rule's Regulations.gov comment page. Or mail written comments to:
Docket Management Facility: U.S. Department of Transportation
1200 New Jersey Ave. S.E., West Building Ground Floor, Room W12-140
Washington, DC 20590-0001
Some comments made to the docket so far can be seen below:
"As a small trucking company owner I can see nothing in this idea that is not fraught with danger. The amount of congestion that this will cause all due to inappropriate driving of four wheeled vehicles in and around our tractor-trailers will create a massive problem on every major road in the country. The problem cannot be fixed with variable speeds on the road. The problem has to be addressed with better infrastructure and segregated lanes. This will cause nothing but death and destruction if allowed to be put into law speed limiters are a terrible idea." – Chris Fann
"I oppose speed limiters in trucks. Accidents are much less likely to happen when vehicles are traveling at the same speed. If speed limiters are such a great idea why don't we put them on all vehicle[s]? Then everybody would be traveling at the same speed." – Donald Beebe, Burnsville, Minn.
"So putting speed limiters on trucks is going to make the highways safer you say. Then why is there a set minimum speed limit on the freeways? Why can't I drive my farm tractor on the interstate? Is it because it's slow and would cause an accident or your tie up traffic? Putting a speed limiter on trucks is going to do the same thing. I think if the trucks have limiters then all vehicles need to have it on. Even the car you drive to work!" – Larry Willhite, Buffalo Lake, Minn.
"No on speed limiters. This would cause drivers to have to work longer hours. Takes control away from drivers. Trucks use more fuel being limited…Can you see the bottle neck problems there would be, this would affect scheduling of loads, cause drivers to drive longer, be tired and fatigued." – Bernard Ziegenhorn
"70 mph is the best speed for trucks. Anything slower creates a problem in states that have high speed limits for cars. Let's don't slow trucks down to 60 mph and have cars going 75 mph. The people don't understand why the truck is going so slow and creates road rage. The closer the speeds that cars and trucks go keep traffic moving smoothly. A truck that is governed to 70mph can't do 70 mph all the time anyway. Every time a truck climbs a hill they will [lose] speed and at the end of the day that 70 mph truck is lucky to have averaged 60mph at the end of the day." – Travis Roland
"My opinion is that nothing is safer than a well-rested, well trained professional truck driver. What defines a safe speed would vary upon the region in which a driver is operating his/her commercial vehicle. What may be a safe speed in Wyoming may not be safe in New England. I feel as though speed limits should be dictated by states, counties and municipalities as to what is safe in each jurisdiction. As a one truck independent owner operator with several million safe miles, I am well able to select a speed which is the safest and most efficient for my operation. In fact, when it comes to fuel mileage, I have achieved 9.6 miles per gallon average over the last 300,000 miles. By imposing a speed limiter rule, this could impact my business negatively by reducing my productivity in many instances. A one hour change in many cases would require me to be on the road for an additional day. This circumstance would require additional overnight parking which is already in short supply." – Henry Albert
"My company currently has our trucks governed at 63. I can tell you motorist as a whole will get very impatient behind us. When they go to pass it's usually reckless with speed and or improper merging distance. Everyone is more in a hurry now a days and I have noticed impatient. If a limit must be set be at least 65mph. Most of the big highways are set at that speed and several have gone up to 70. I can tell you with certainty if a car passing that fast impatiently had to stop suddenly it would be a pile up or they would lose their life. A truck can't stop fast enough when they fly in front of us only 2 car lengths on average then swerving in." – David Simmons
"I believe you should install speed limiting devices in all cars. I drive for a company that has them installed. Recently, I was passed by two vehicles, one at 108 mph, and one at 111 mph. You need to ride with a driver to see how cars are operating around us. Their interactions are unsafe. The speed difference is a problem, and split speed has already been proven false. I believe this action will have an increase in the problem." – Kevin Naugle
"This would be a really foolish rule for DOT to implement. It would increase the length of traveling from coast to coast in excess of 12.5 [hours] which means that it would take another 1.2 days to reach your destination if you are a solo driver. There are many different types of produce that would be endangered to be a claim against the company/driver in spoilage. This is just another way of tying our hands behind our backs." – Randolph Read
"I've been an owner operator for 35 years. I've seen what dangers that split speeds cause. If trucks are required to have a speed limiter and the motoring public doesn't, then you will see more road rage and accidents on the public highways. The public is not going to appreciate a slower moving truck, causing them to have to slow down and wait to pass. I think this is a bad decision. I know the big push is for a cleaner environment, but the answer is not to just regulate trucks. It should be all vehicles, if you are going to really make a difference." – Joe Ed Fairfield, II, Rosharon, Texas
"The roads are bad enough with so much traffic that slowing down trucks will cause more congestion with added hate from all drivers regardless of who they are. It might actually save a few lives but in doing so there will be so many more accidents that it will be mass grid lock across the country." – Don Ward
While most commenters were opposed to the rule, there were a few that supported it:
"Speed Regulations for commercial vehicles is a great idea. But, the biggest danger on the road is excessive speed and reckless driving of Sport Utility Vehicles and light duty pickups especially 4X4 vehicles. Due to the high center of gravity it is far easier for an SUV or pickup to rollover. Also these large vehicles pose a greater risk to other vehicles on the road as the drivers most often are not commercial drivers are not properly trained to operate these vehicles." – Hubert Adams, Jamestown, N.C.
"I agree it is a good idea to limit the speed of these large commercial vehicles. Most of the newer semi trucks are equipped this way, the older ones seem to go entirely too fast sometimes." – Carmen Hendrix
"I support a heavy vehicle speed limiter rule that applies to all trucks. 4,067 people were killed in large truck crashes in 2015; we cannot delay this lifesaving rule any longer." – Mark M. Giese, Racine, Wis.
"I am an NRCME Certified Medical Examiner of Commercial Drivers. Since starting practice in the early 80s I have become acutely aware of the many dangers present in the commercial trucking industry. A speeding, overweight logging truck took the life of the husband of a physician colleague of mine and this has further strengthened my resolve to toughen the safety standards placed on commercial truckers. I am also a Medical Review Officer (MRO) and until my recent retirement I regularly found truckers using banned substances such as heroin and other painkillers and stimulants to push the limits on their income producing rigs. I strongly encourage you to consider toughening the speed limit rules by adding speed limiters. This is absolutely vital to our safety on the road. Please act on this now." – Edmond Kay, Seattle, Wash.