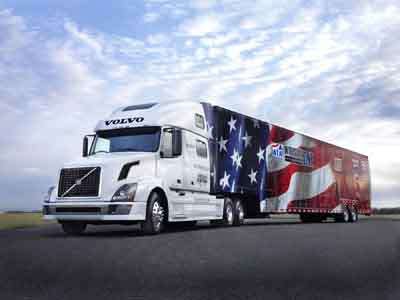 The American Trucking Associations announced this week 33 drivers as finalists for the captains of the 2017-2018 America's Road Team.
America's Road Team, sponsored by Volvo, is a group of truck drivers with superior safety records that represent the trucking industry.
The 33 finalists now move on to the final round in the selection process, which will be held Jan. 8-12 in Arlington, Va. A panel of industry officials and trucking news media will judge the drivers on their knowledge of the industry, dedication to safety, ability to communicate the industry's messages and their overall safe driving record.
The new captains will be named Jan. 12. The finalists are as follows:
Steve Brand, FedEx Freight, Union, Ohio
Jon Brockway, Walmart Transportation, Westbrook, Maine
Brad Coffey, TCW, Murfreesboro, Tenn.
Bobby Covert, UPS Freight, Lexington, Ky.
Scott Davis, ABF Freight, Kearney, Mo.
Duane Donner, Walmart Transportation, Litchfield Park, Ariz.
Donald Forrest, FedEx Freight, Winter Haven, Fla.
John Gaddy, Carbon Express, Asbury, N.J.
Scott Harrison, K-Limited Carriers, Cincinnati, Ohio
Rhonda Hartman, Old Dominion Freight Line, Des Moines, Iowa
Gary Helms, Covenant Transport, Cleveland, Tenn.
Duane "Rusty" Holmes, UPS Freight, Odenville, Ala.
Bill Krouse, YRC Freight, Shakopee, Minn.
David Livingston, TCW, Springfield, Ga.
Charles Lobsiger, Walmart Transportation, Alachua, Fla.
Ronnie Luckadoo, UPS Freight, Forest City, N.C.
Thomas McIntosh, YRC Freight, Aurora, Colo.
Tim Melody, ABF Freight, Payette, Idaho
James Moore, Saia LTL Freight, Magnolia, Texas
Chris Outen, FedEx Freight, Vancouver, Wash.
Charlton Paul Jr., UPS Freight, Chester, N.Y.
Jeff Payne, Reddaway, Cedar City, Utah
James Quarles, Walmart Transportation, Laurens, S.C.
Larry Rhein, FedEx Freight, Harrison, Ark.
Stephen Richardson, Big G Express, Decatur, Ala.
Michael Sheeds, Werner Enterprises, Bandera, Texas
Steven Smalley, ABF Freight, Mesa, Ariz.
Gary Smith, Garner Trucking, Gomer, Ohio
James Starr, Groendyke Transport, Wichita, Kan.
Chris Sutton, UPS Freight, Erie, Penn.
Barney "Earl" Taylor, Penske Logistics, Orlando, Fla.
Tim Taylor, FedEx Freight, Valdosta, Ga.
Jimmie Wisley, YRC Freight, Wichita, Kan.