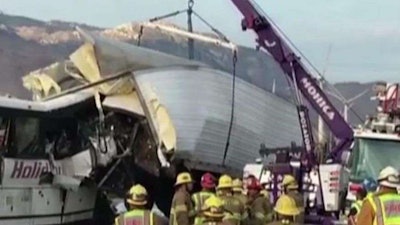 The National Transportation Safety Board is beginning its investigation into a crash that occurred Sunday, Oct. 23, in which a tour bus ran into the back of an 18-wheeler, killing 13 people and injuring 31 others.
NTSB sent a "Go Team" to the crash site Sunday afternoon, and in a Tuesday afternoon update, investigators said the tread depth on the steer tires of the bus were below minimum. Based on tire conditions, NTSB added, the bus was out-of-compliance with Commercial Vehicle Safety Alliance inspection standards.
Investigators said the next step in the investigation is to look into the driving histories for the driver of the bus and the truck, as well as inspecting the interior of the bus. NTSB said most reports take approximately a year to complete.
Based on the tire conditions, the bus was out-of-compliance with Commercial Vehicle Safety Alliance inspection criteria. #CAbuscrash

— NTSB_Newsroom (@NTSB_Newsroom) October 25, 2016
The California Highway Patrol said the bus had "no appearance of braking" before the accident occurred, according to a report from The Desert Sun newspaper in Palm Springs, Calif. The bus was traveling from Red Earth Casino in Salton Sea Beach to Los Angeles, the report states, and crashed at 5:17 a.m. Sunday along I-10 in Desert Hot Springs.
Additionally, the report says the California Highway Patrol had been slowing and stopping traffic overnight for a crew that was working on power lines that crossed the interstate, but traffic was flowing slowing at the time of the accident.
A CHP spokesman reportedly said the bus was traveling "significantly faster" than the truck at the time of impact. The Desert Sun report states the truck was traveling at approximately 5 miles per hour when it was hit by the bus, and adds that the front 15 feet of the bus was inside the truck's trailer before the vehicles were pulled apart.
Authorities: Driver in deadly California bus crash didn't brake before hitting big rig https://t.co/FDrgOO860i pic.twitter.com/AkQoScyxHn

— Fox News (@FoxNews) October 25, 2016
At least 13 dead in California tour bus crash: https://t.co/1jY0dfOMJo pic.twitter.com/dK8g41NfXb

— Good Morning America (@GMA) October 24, 2016
NTSB to investigate cause of California tour bus crash that killed 13. https://t.co/3opRFXmGcb pic.twitter.com/C7grQZ1GEB

— FOX Business (@FoxBusiness) October 24, 2016
Thirteen killed, 31 injured in California tour bus crash https://t.co/ooRBGf9spB pic.twitter.com/ak4A4vrGs3

— Reuters Top News (@Reuters) October 24, 2016