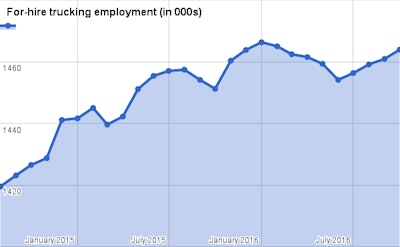 The for-hire trucking industry added 3,000 jobs on a seasonally adjusted basis in October, according to the Department of Labor's monthly Employment Situation Report.
The DOL also upwardly adjusted trucking's employment stats for September by more than 5,000 jobs, erasing the originally reported 3,600-job loss and replacing it with a 1,800-job gain.
September's revision changes the trucking employment landscape for 2016, with October's gain now marking four straight months of solid gains.
The U.S. economy as a whole in October added 161,000 jobs. The country's unemployment rate dropped a tenth of a percentage to 4.9 percent.
Employment in the for-hire trucking industry totaled 1463.9 million jobs in October, according to the DOL. That number does not take into account private fleet employment.
The transportation and warehousing sector as a whole added 7,500 jobs in the month, while manufacturing lost 5,000 jobs and construction added 11,000.