Trends noted in the last spot market update with the folks at DAT continued last week, with evidence remaining on offer of an extended holiday freight season. Also, note's DAT's Peggy Dorf, "a lot of season-specific freight was on the road last week, including Christmas trees, as well as potatoes, cranberries, and other fall produce — indicating that grocery stores were still stocking up on fresh food during the week before Thanksgiving.
"We expect this week to be quieter, for all the right reasons."
Flatbed overview: Christmas tree sales have dropped by about 25 percent over the past five years, but tree shipments have a very short season, and there's a lot of urgency during those few weeks. That season is drawing to a close now, contributing to last week's surge in flatbed loads and rates. Some trees move on vans or reefers, too, and there may be some more to come in the next couple of weeks, so keep an eye on these markets if you want to haul trees.
Hot markets: Christmas tree loads may be contributing to high demands out of markets that are usually quiet. For example, Rapid City, S.D.; Spokane, Wash.; and Medford, Ore., were among the top six markets for flatbed load availability last week. Trucks are in short supply in those markets, too, so the outbound load-to-truck ratios are insane. Some Southeastern regional hubs are moving freight into areas affected by Hurricane Matthew, driving additional flatbed activity outbound from Savannah, Ga., and Raleigh, N.C.
Rising lanes: Flatbed rates are mostly down in Memphis. The lane from Memphis to St. Louis countered that trend last week, adding 16 cents to $2.32 per mile on average.
Falling lanes: Prices have fallen seasonally in the Midwest and Northeast regions. For example, the lane from Cleveland to Harrisburg, Pa., was down 15 cents to $2.62 per mile. Rock Island, Ill., also lost traction, and the lane from Rock Island to Minneapolis dropped 19 cents to an average $2.06 per mile. Some loads headed north out of the Southeast took a hit, too. The lane rate from Atlanta to Baltimore drifted down 20 cents to an average $1.92 per mile last week.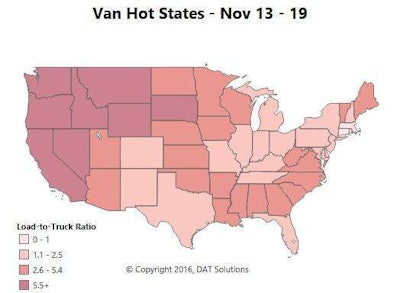 Van overview: Van demand bounced back last week after a lackluster performance in the week surrounding Election Day. The rebound drove load volume to a new height for November, which used to be a relatively quiet month. As e-commerce becomes a bigger factor, truckload freight keeps moving in and out of distribution centers right until Christmas week, so load volume now builds through November and into December. Then in January, instead of selling off their remaining inventory at a discount, online and brick-and-mortar retailers re-stock their most popular items for shoppers who want to redeem gift cards.
Hot markets: Freight volume was way up, with more loads moving out of Atlanta, Dallas, and Houston last week, but Los Angeles remained the number-one place to find a van load on DAT load boards.
Rising lanes: Rates rose in "backhaul" markets, including Denver and Seattle. Denver to Oklahoma City gained 20 cents, and Denver to Stockton, Calif., added 18 cents, to about $1.25 per mile. "The Denver increases," says DAT's Mark Montague, "may be caused in large part by the winter snowstorm that hit last week. I noticed the southbound lane to Phoenix actually dropped, which supports that observation."
Outbound from Seattle, the lane to Eugene, Ore., rebounded 15 cents, to an average $2.28 per mile, but you might have to factor in some deadhead miles on the return trip. The average from Buffalo to Allentown, Pa., also shot up 15 cents to $2.80 per mile.
Falling lanes: Outbound volume increased in Philadelphia, but so did inbound loads, so a surplus of trucks added to competition that brought outbound rates down. For example, the lane rate from Philadelphia to Buffalo fell 21 cents to $1.89 per mile. The lane from Buffalo to Charlotte slipped 11 cents to just $1.51 per mile, and Charlotte to Buffalo only gained 4 cents — the roundtrip rate declined 7 cents per mile.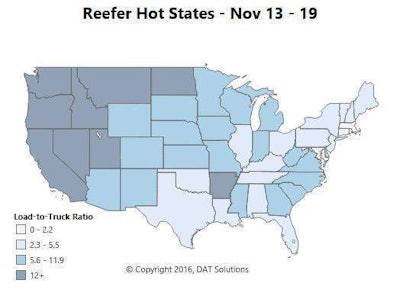 Reefer overview: Reefer volumes also rebounded last week. A strong fall harvest season continued into November, and the last-minute Thanksgiving groceries have added to demand.
Hot markets: Most major reefer markets posted higher rates last week. Demand and rates continue to be high in Southern Idaho, amid reports of a shortage of outbound trucks in Twin Falls. Another hot market is Green Bay, Wis., known for football and dairy products. Wisconsin is also harvesting cabbages and root vegetables in November, and it's one of the top five producers of another Thanksgiving staple: the cranberry. (Massachusetts is the number one state for cranberries – no surprise – followed by New Jersey, Oregon, Washington and Wisconsin.)
Rising lanes: Rates rose 20 cents on the lane from Twin Falls to Phoenix, to $2.51 per mile, last week. Green Bay to Joliet, Ill., added 29 cents to a healthy $3.53 per mile, and Green Bay to Des Moines added another 27 cents last week to an average $2.45 per mile. Here's another surprise: Miami rates hit a six-week high, and the lane to Boston rose 23 cents to an average of $1.90 per mile. A USDA report "confirmed a little spike in activity from South-Central Florida," says Montague. "We saw the lane rate to Boston go sharply higher."
Falling lanes: Outbound load volume fell at two markets on the Mexican border, in Nogales, Ariz., and McAllen, Texas. Average rates fell 16 cents to $2.07 per mile on the lane from McAllen to Dallas. Says Montague, "The McAllen market should recover after Thanksgiving due to citrus shipments starting. Ontario, Calif., will likely see increases from crops of lettuce, spinach, and artichokes."
Outbound rates also dropped in Chicago on average, including a 23-cent decline on the lane from the Windy City to Atlanta, which paid $2.57 per mile last week.